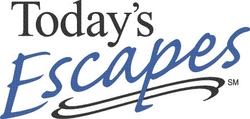 Life is like riding a bicycle. To keep your balance, you must keep moving.
Norwalk, CONN. (PRWEB) August 29, 2008
Todays Escapes℠, a discount travel membership program by Adaptive Marketing LLC®, knows that for some, the freedom and sheer joy of taking a bike trip is tough to match. Todays Escapes is all about adventure, and what better way to experience the open road and all it offers than from the perch of a bicycle?
Nobel Prize-winning physicist Albert Einstein once wrote, "Life is like riding a bicycle. To keep your balance, you must keep moving." And perhaps he had it right; seeing what the world has to offer by bicycle can be a special thing. With that in mind, AP9 TodaysEscapes offers its take on some top bicycle-riding venues. All that's required is wanderlust, along with a love for adventure, challenge and, of course, escape:
-- Ride along with the ghost of Ethan Allen in the Green Mountain State. (Route 100, Vermont) American patriot Ethan Allen may not have had a chance to navigate his beloved Vermont by bicycle, but that shouldn't stop the modern rider. Lush, forested hills provide a stunning backdrop to many quaint churches, shops and colonial homes. Todays Escapes suggests traveling north on Route 100; the 165-mile journey from Massachusetts to the Canadian border may just have you looking for Ethan's ghost.
-- From here to eternity. (Maui, Hawaii) Sure, Deborah Kerr and Burt Lancaster might look a little out of place in bike-riding gear instead of swimwear, but there's definitely more than one way to experience Hawaii's stunning beaches. In fact, Maui, Hawaii, is home to some of the U.S.'s most spectacular cycling; there's opportunity for physical challenge, combined with good ol' rest and relaxation, too. Just try pedaling the 37 miles to the 10,000-plus-foot summit of Mount Haleakala (which, by the way, is a dormant volcano), then bask in the sun later on.
-- Meanwhile, back on the Isle of Wight. (Isle of Wight, England) A popular vacation destination, all the way back to Victorian times, England's Isle of Wight is well known for its outstanding natural beauty. For cyclists, though, it combines that beauty with unparalleled diversity: One minute there are salty ocean breezes; the next, its green sheep pastures that offer the aroma of wild garlic.
-- Starbucks meets Juan Valdez. (San Juan, Islands, Washington State) Sometimes called the "Emerald City," Seattle, Washington, is known for all different types of dreams and fascinations. From coffee treats to stunning ocean views to three separate islands -- Lopez, San Juan and Orcas -- Washington's San Juan Islands (just 60 miles northwest of Seattle) can easily be cycled in a day.
TodaysEscapes understands the need to get away -- to escape the grind and see the world. So for those times when second-hand experience just won't do, plan that much-needed or spur-of-the-moment getaway with Todays Escapes.
About TodaysEscapes
Todays Escapes is a leading membership discount program offered by Adaptive Marketing LLC®. Headquartered in Norwalk, Conn., Adaptive Marketing is a category leader in membership programs, bringing value direct to consumers through an array of benefits in healthcare, discounts, security, personal property and personals. Members may access their benefits at TodaysEscapes.com. With broad online and offline distribution capabilities, Adaptive Marketing offers its corporate client partners effective tools to enhance market presence, strengthen customer affinity and generate additional value through programs such as AP9 TodaysEscapes.
###