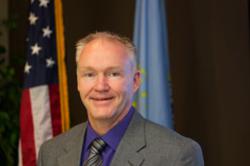 I'm pleased that we were able to secure the grant for Pioneer, it will help enhance their products and services and more importantly, help individuals and families struggling with credit card debt.
Rapid City, South Dakota (PRWEB) June 24, 2012
Todd Ossenfort successfully secured a grant from Bank of America's Credit Counseling Grant Advisory Board for use by Pioneer Credit Counseling during the agencies 2012 operating year. After an extensive evaluation from Bank of America's Grant Advisory Board, Bank of America approved the grant request which will provide Pioneer Credit Counseling with critical funding necessary for the organizations operations.
Todd Ossenfort has been in the business of helping consumers reduce or eliminate their consumer debt. Recently, Ossenfort has become highly involved in securing grant funding for non-profit credit counseling agencies in an effort to enhance their product and services portfolios.
According to Todd Ossenfort, Pioneer Credit Counseling will use the funds received to enhance Pioneer Credit Counseling's educational programs and continue the agencies forward looking vision at the development of new products and or services aimed at increasing financial literacy and debt reduction. The grant funds were distributed in accordance with Section 170(c)(2)(B) of the Internal Revenue Code (IRC). The IRS allows funding for non-profit organizations to be taxed differently than most for-profit organizations, accordingly the grant funds will allow Pioneer Credit Counseling to allocate all of the funding received to their educational programs.
"Continuing to evolve core educational programs, including debt management, debt reduction counseling, and overall financial literacy is important to Pioneer," noted Todd Ossenfort. "Without funding from agencies like Bank of America and favorable IRS rules governing such grants, agencies like Pioneer Credit Counseling would fail to exist."
Non-profit credit counseling agencies exist for the purpose of delivering financial education programs to individuals and families struggling with repayment of consumer credit card debts and other secured and non-secured loans and lines of credit. The programs offered by such agencies are highly regulated by Local, State, and Federal agencies. "Pioneer Credit Counseling must maintain compliance with a variety of laws in order to maintain their non-profit status; Bank of America's grant is further affirmation that Pioneer Credit Counseling is raising the bar in complying with all applicable laws while at the same time, working extremely hard at providing new products and services to help consumers get out of debt.
"Pioneer will be able to continue to provide a quality of financial counseling, debt management, debt reduction, and housing services which are second to none," says Laca Ossenfort, Administrator of the non-profit organization. "We're grateful for the grant from Bank of America and their continued support of our agencies financial education objectives."