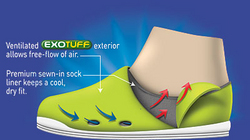 We are thrilled to offer the Weboo line of footwear. The first time we saw them at the kids clothing trade show; it was love at first sight.
Barrington, IL (PRWEB) September 21, 2010
Not only will stylish parents find some of the best designer kids clothing for boys and girls at Crab Apple Kids, but now they will find the new and exciting line of Weboo Shoes which combine comfort with color, fit with fun, and health with happiness.
WEBOO is a new, innovative shoe and sandal line aimed at creating three dimensional, fun children's footwear, specially engineered for healthy foot development. All WEBOO footwear is molded from patented Ultra-durable EXOTUFF into highly detailed and exclusive characters, each with a unique hand-painted finish. Weboo footwear is toy inspired and designed to catch the eye as well as nurture the foot, with air-cooled ventilation, a secure fit, and superior flexibility to ensure natural foot growth. To put it plainly, Weboo is engineered footwear that both a child and parent will love!
At the heart of Weboo footwear is the "WeFit System", formulated from a combination of principles based on intense research and development in association with pediatricians, children's podiatrists, and long time shoe engineers. The general consensus among pediatricians is that shoes should simulate a natural barefoot environment complete with flexible soles, non-tapered toe beds, soft uppers, and minimal arch support. However, traditionalists would argue that such shoes do not provide enough protection to a child's foot, being too flimsy and lacking security.
Thus, Weboo spent the better part of a year designing a shoe that provides the best of both worlds, a fit system that combines the facilitation of natural foot development with the protection and sturdiness of traditional shoes. They call it the "WeFit System," and it encompasses the following characteristics:
-- Superior Flexibility for Healthy Foot Development
-- Protective Sole Unit
-- Non-Tapered Toe Beds
-- Heel Counter and Arch Supports
-- Room to Grow Features
-- Revolutionary EXOTUFF Advanced Gel Composite
EXOTUFF, Coryal's revolutionary advanced gel composite, is used in the upper portion and footbed of every Weboo shoe. The soft and comfy, yet ultra-durable, material represents a profound advance in children's shoe technology. It is superbly flexible, bending and adapting to each child's foot. This freedom of movement allows each individual's feet to develop in the healthy, natural way experts agree is most beneficial. Also, despite its comfort features, it is expertly designed to protect your child's feet at all the key points, while allowing for maximum breathability through a series of air cooled channels throughout the shoe. The EXOTUFF orthotic footbeds even simulate a pediatrician recommended "barefoot environment", while still providing a secure, yet soft fit. All in all, EXOTUFF has been designed and tested to make sure Weboo Footwear provides your child with the foremost level of comfort, fun, and health a children's shoe can supply.
"We are thrilled to offer the Weboo line of footwear. The first time we saw them at the kids clothing trade show; it was love at first sight. And you know they have to be, because Crab Apple Kids does not carry a lot of footwear. What we do carry is either extremely unique or designed to coordinate with an outfit" said Anna Incledon, CEO of Crab Apple Kids. "Weboo definitely has the WOW factor; so much, in fact, that people have stopped in the middle of the street to ask me where I bought our children's shoes--I say CrabAppleKids.com, of course."
Crab Apple Kids stocks nearly 100 brands of the most enchanting, top brand names in baby, toddler and kids clothing. In addition to the new line of Weboo Shoes, they also carry other hot kids clothing labels such as Anita G, Biscotti, Cachcach, Harley Davidson, Hartstrings, Indygo Artwear, Kate Mack, Katie Rose, Le Top, Lipstik Girls, Oopsy Daisy Baby, ZAZA Couture and many more.
The store carries a breathtaking selection of girls clothing, but also has an above average and growing selection of boy's clothing. "Parents who have boys understand how hard it is to find nice boy's clothes," said Incledon. We also carry heirloom quality boys and girls Christening gowns and dresses, and have a special section dedicated to twin clothing and matching family collections for siblings: brother and sister, sister and sister, or brother and brother.
Beyond designer kids clothing, shoppers will find show stopping baby shower gifts, such as personalized hair brushes, CDs and DVDs, heirloom quality Christening blankets and gowns, and some very unique everyday items such as pacifiers, eating utensils and kids aprons.
Become a Crab Apple Kids fan on Facebook or Twitter. Visit the boutique now to view their extensive choice of children's clothing. Crab Apple Kids strives to become every parent's first stop for kids clothing and birthday and baby shower gifts.
Contact
James Incledon, Jr.
847-551-1212
pr(at)crabapplekids(dot)com
###