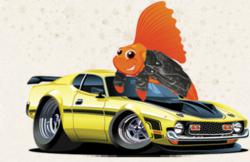 It sucks that many people will now be afraid to keep Buckyballs, a really cool adult product and and never intended for kids, in their home.
Portland, Oregon (PRWEB) March 07, 2012
RoadFish.com men's lifestyle and finance magazine today urged parents to double and triple check the toddler-proofing in their homes after a 3-year-old Oregon toddler underwent surgery when she swallowed 37 magnetic Buckyballs. RoadFish.com acknowledged that accidents do happen, but encouraged parents to be mindful of adult products and pricey valuables around the home that children have easy access to which could cause a potential health hazard.
MSNBC reported that 3-year-old Payton Bushnell had been complaining of flu-like symptoms to her parents for a few days when they took her into the doctor's office to get checked. An x-ray revealed 37 magnetic Buckyballs clustered together in the toddler's intestine and stomach. Bushnell has been in Legacy Emanuel Hospital in Oregon since February 21, undergoing surgery to remove the magnetic balls. Doctors expect a complete recovery and listed her in good condition on Monday morning.
Buckyballs released a statement on its website on Tuesday, stating, "Buckyballs was saddened to learn that a 3-year old girl in Oregon had swallowed high-powered magnets but we are relieved that she is expected to make a full recovery. This unfortunate incident underscores the fact that Buckyballs and Buckycubes are for adults. They are not toys and are not intended for children. We urge all consumers to read and comply with the warnings we place on all our products, on our website and in stores. Please keep these products out of the hands and reach of all children." The Buckyballs product warning states on its packaging, "Not intended for children. Swallowing of magnets may cause serious injury and require immediate medical care." The packaging touts an intended age of 13+.
RoadFish.com's editor is quoted as saying, "It sucks that many people will now be afraid to keep Buckyballs, a really cool adult product and and never intended for kids, in their home. Accidents do happen, but I believe it is the parents' responsibility to baby-proof the daylights out of their house to ensure that items like these magnets never have the opportunity to find their way into a child's hands."
The risk of a child swallowing magnets occurs due to the ultra strong bond the magnets possess, so powerful that they can actually link together in the digestive tract. The intestine goes back and forth on top of itself, and if two magnets are inside the intestine, the magnets can snap together and perforate, squeeze, or twist the intestines. This can cause holes in the stomach and intestines, intestinal bloackage, blood poisoning and in the worst of cases, death.
In 2005, a 20-month-old boy from Redmond, WA died after swallowing 9 tiny magnets that had come from his 10-year-old brother's Magnetix building set. The magnets had stacked in the child's small intestine, twisting his intestine and allowing deadly bacteria to enter into his bloodstream as a result. In 2006, the U.S. government warned about risks from magnets used in toys which prompted a recall by the Consumer Product Safety Commission of almost 4 million Magnetix building sets. Warning labels were added, and Magnetix maker Mega Brands, Inc. paid $13.5 in lawsuits over the infant's death.
RoadFish.com understands that accidents do happen, but hopes that the recent incident of 3-year-old Payton Bushnell will "act as a wake-up call to parents to double check the toddler-proofing on their house. Pretend you're 3-years-old, and crawl around on the floor. Look around your home for objects that you might want to get into, that could be potentially dangerous, and put them somewhere safe out of the reach of young kids."
Last month, 10-year-old Meredith DelPrete of Ivona Fairfax swallowed two magnetic balls while using them to pretend she had pierced her tongue. Five days in the hospital, ten x-rays, three CT scans, and one endoscopy later, a surgeon was able to use a metal tool to attract the magnets into her appendix. He then performed an appendectomy and was able to remove the magnets. FindLaw.com reports that according to the Consumer Product Safety Commission, at least 22 similar cases of children swallowing magnets have been reported since 2009.
About Roadfish
RoadFish.com is an online men's lifestyle and finance magazine targeted toward men in their 30s and 40s that have already attained a moderate level of success in life, and are striving toward more. It goes over current events of interest to this group, such things as exciting adventures, consumer interests, hot chicks, and dating tips, as well as ways to make more and save more money. It is a publication owned by Purpose Inc.
###