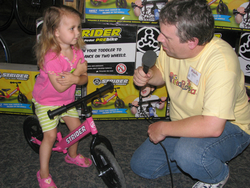 Kids Talk Strider PREbikes and Whatever Else is on Their Minds
Boulder, CO (Vocus) September 29, 2010
One toddler says he wants to be a werewolf when he grows up. Another affirms that she has read all 1,000-plus pages of the American Recovery and Reinvestment Act of 2009.
Regardless of what they say – and what they were prompted to say, the kids featured in a new 4-minute video now available online are adorable and entertaining.
Interviewees for "Kids Talk Strider PREbikes and Whatever Else is on Their Minds" were participants in the 2010 Boulder Tikeapalooza, held earlier this month.
The event featured dozens of tots ages 18-months to six years riding indoor mountain biking trails on their Strider PREbikes, also known as balance bikes or running bikes.
A second new online video captures Tikeapalooza's 'Parade of Tike Bikers' – in which the children set off on a laugh-filled processional around the base of Boulder Indoor Cycling's unique 138-meter indoor Velodrome – the largest known parade of kids on balance bikes ever held. One of the highlights of this 90-second parade video is the 'wrong-way' cyclist.
Strider has helped inspire a growing movement by American toddlers to begin with balance bikes instead of training wheels, a biking trend that was recently featured at length in The Wall Street Journal. Strider is the originator of the durable, 7-pound Strider PREbike, a popular custom-engineered learning bike that is designed specifically to aid young children in acquiring balance, coordination and the self-confidence that biking without training wheels inspires.
Each of the children featured on the "Kids Talk" video, even a 22-month-old youngster who rode off rather than answer questions, has mastered PREBiking and as such will enjoy a head start when they do transition to regular pedal bikes. Unlike reluctant kids who must be weaned from their training wheels, Strider PREbike graduates have a self-confident and robust set of riding skills at their disposal from their very first pedal stroke.
Both the "Kids Talk" and the "Parade" videos can be found at http://www.stridersports.com and on YouTube at http://www.youtube.com/tikeapalooza.
Family-friendly websites and bloggers are welcome to embed the videos to amuse visitors to their own sites.
Credentialed members of the news media are invited to 'test-drive' Strider PREbikes by contacting the Strider Sports media relations department. Strider can also connect journalists with satisfied Strider PREbike owners in their local communities.
For customer inquiries, visit http://www.stridersports.com. For media inquiries, contact Dean Rotbart, Media Relations Director, by email or phone.
###