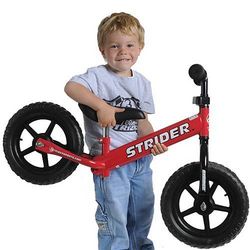 Teach Your Toddler To Ride
Rapid City, SD (Vocus) June 15, 2010
Father's Day 2010 inaugurates the first annual "Teach Your Toddler To Ride" celebration, in which dads across the country will join their toddlers on their very first bike ride.
Successful dads and their kids are invited to post photos or videos of their father-son and father-daughter bike adventures at http://www.facebook.com/StriderPREbike. (Just click the "Like" button and then upload to share.)
The goal of the "Teach Your Toddler To Ride" national event is to cement the annual celebration of fatherhood into the lifetime memories of dads and kids alike. Along the path, families can establish an annual tradition of fun, active, outdoor father/child activities on this special day.
Few childhood events are as momentous as when a boy or girl is able to take control of a bike for the very first time. Almost all of us remember when and where we accomplished this early right of passage.
The "Teach Your Toddler to Ride" association with Father's Day is the brainchild of outdoor recreation enthusiast Ryan McFarland, father of two and founder of Strider Sports International, Inc.
McFarland, whose training bike company receives dozens of testimonials each month from beaming fathers reporting on their toddlers' first solo ride, reasoned that it makes perfect sense to facilitate and coordinate the joyous experience on behalf of dad's all across the country.
"What did you do on Father's Day 2005?" McFarland muses. "Most of us have no recollection."
But, McFarland observes, ask proud Dads about their toddlers' first time gliding off on a bike under their own power, and the fathers will surprise you with their clear recollections. Indeed, as McFarland well knows, YouTube is overflowing with home videos of cheering, crowing, whistling and clapping dads as their toddlers head off along their first sidewalk or bike trail.
Each year, thousands of American toddlers launch their first solo bike ride on McFarland's Strider PREbike, a light-weight, pedal-free training bike that he invented to empower his then 2 ½ year old son, Bode, to ride along with him.
Strider PREbikes have become a quiet rage among parents of toddlers, as The Associated Press noted in a feature article earlier this month. What makes Strider PREbikes so popular is that they are durable, virtually maintenance free, and designed for the shorter leg-lengths and less-developed muscle power of toddlers. Many children are able to master the balance and coordination necessary to propel a Strider PREbike at 18 months of age!
"Why skip a Father's Day family bike ride because you have toddlers or settle for towing your kids along in bike caddies when they can coast right along with you and your older children on their own PREbike?" McFarland asks.
McFarland says he personally has witnessed hundreds of toddlers setting off on their first family bicycle outing and he can't really say who is more thrilled, the kids or their parents.
Most tots take to Strider PREbikes right out of the box. While some toddlers might move haltingly the first couple of days, usually within three or four days they are gliding along. One Strider PREbike enthusiast interviewed by The Associated Press, Phil Busching, described how his youngest son began on one of McFarland's PREbikes when he was still 18 months old. "It was an immediate hit," Busching said. "He was coasting it 30 feet within two weeks."
Strider PREbikes are a breeze to assemble. They weigh only 7 pounds and are available directly from Strider Sports as well as a nationwide network of dealers and bike shops.
If delighted Dads do get their toddlers started this Father's Day on their first solo ride along, what will fathers do for an encore next year?
McFarland observes that children who develop the necessary balance and coordination skills on his PREbikes have demonstrated an amazing ability to transition to two-wheel pedal bikes at surprisingly early ages – well ahead of kids who rely initially on training wheels or tricycles.
"The formula is simple," McFarland says. "It's PREbike with your kids for Father's Day 2010 and they'll likely be ready to solo on a two-wheel pedal bike for Father's Day 2011."
In both instances, McFarland promises, the experience will be unforgettable and the start of a cherished new American family tradition.
###