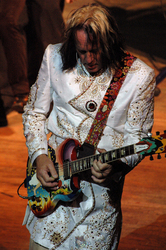 "The album re-creation shows are a much bigger production with a bigger band". Todd Rundgren
Birmingham, AL (PRWEB) February 2, 2011
Pop/rock music icon Todd Rundgren will perform two complete albums, "Todd" and "Healing", in the same live concert. The first show is scheduled for March 25 in Hartford, CT at the Belding Theater. The tour also includes concerts in Boston, Massachusetts at the Berklee Performance Center (March 27); Red Bank, New Jersey at the Count Basie Theater (March 28); Toledo, Ohio at the Stranahan Theater (March 30); and Columbus, OH at the Southern Theatre (April 1).
The first-ever TODD & HEALING ALBUMS LIVE concerts in September 2010 were a huge success and the reviews included many "best ever" comments from fans that have been going to Todd concerts for decades. A large LED display and lasers were on display throughout the shows with Todd and the band dressed in extravagant costumes. Todd brought out his SG Gibson "The Fool" replica guitar and even performed a few songs while playing the piano. He was accompanied by an all-star band consisting of Jesse Gress, Greg Hawkes (The Cars), Prairie Prince (The Tubes), Bobby Strickland, and Kasim Sulton (Utopia). Led by Choir Master Dirk Hillyer, local choirs from each area where the concerts were held joined Todd and the band during parts of the HEALING set and added a brand new element to the music for fans that had only heard it by listening to the album. The shows closed with the song, "Sons Of 1984" which included fan participation even after Todd and the band left the stage.
According to Rundgren, "These shows are proposed and promoted by the fans. I'm lucky to have a very loyal audience." The musician's followers enthuse about the energy he brings to the stage, and they embrace the charged vibe that is typical of a Rundgren concert.
Todd Rundgren is a songwriter, video pioneer, producer, recording artist, computer software developer, conceptualist, and interactive artist whose music features an amazing variety of sounds and styles. The lively tracks on Todd exemplify his interest in music synthesizers, while the gentler Healing displays the more traditional and spiritual side of his music.
For ticket information and to learn more about the tour and events, visit http://www.sonsof1984.com.
Fans and followers of Todd Rundgren can hear more and take part in the conversation at http://www.RundgrenRadio.com which broadcasts online every Tuesday night at 8:30 ET.
# # #