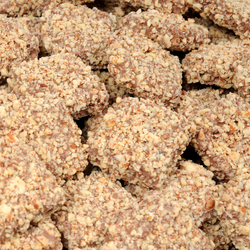 the award certainly reflects the hard work that everyone on the team has done to produce, market, and distribute the product.
Houston, TX (PRWEB) March 15, 2011
DGZChocolates.com, known for offering signature chocolates and toffee, announced that the 2011 Houston Livestock Show and Rodeo™ has chosen its toffee as the winner of this year's Gold Buckle Foodie Award for Best Gourmet Food.
"It's truly an honor to be presented with this highly coveted award and I'm happy we could be a part of this year's rodeo. We're proud of our toffee and our organization and I'm excited that we had the opportunity to showcase the prize throughout the remainder of the event," says Debbie Zissman, Founder and President of dgzchocolates.com. The award winning toffee] is a scrumptious almond butter crisp covered with fine Swiss recipe chocolate and freshly roasted almonds. The Houston-based chocolate and toffee retailer sells the award winning Toffarazzi Toffee on their website in various sizes ranging from their quarter pound snack-sized boxes to their large gift boxes and tins.
Jonathon Reckles, who runs the e-commerce Marketing and Business Development divisions for the online startup, stated that the company "is growing quickly and the award certainly reflects the hard work that everyone on the team has done to produce, market, and distribute the product."
The Houston Livestock Show and Rodeo™ is the world's largest live entertainment and livestock exhibition. More than 100 mouth-watering entries were submitted for this year's 2011 Gold Buckle Foodie Awards, and while dgzchocolates.com takes home the first place award for best gourmet food, company representatives feel that this is simply an inspiring start to a successful future in the e-commerce space.
About DGZ Chocolates
DGZ Chocolates was founded in 1999 in Houston, Texas, and launched its e-commerce division in 2010 after having success in wholesale and retail platforms across the globe. Famous for its signature products including Toffarazzi Toffee, Poparazzi Popcorn, Turtlerazzi Turtle, Pecan Perfection, and custom chocolate molds, the gourmet chocolatier's products have been featured in stores such as Nordstrom's and Harrods.
All of the company's products are made from only the finest basic ingredients such as rich Swiss-recipe chocolates, freshly roasted nuts, dairy fresh butter, and creamy smooth caramel. Incorporating beautifully-designed and unique packaging with its tasty confections ensures that the organization's products will continue to be popular favorites for years to come.
For more information visit the company's website at http://www.dgzchocolates.com.
###