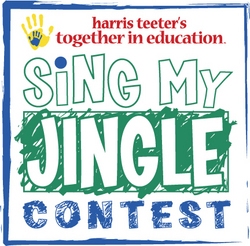 Charlotte, NC (Vocus) February 5, 2009
Calling all Together in Education schools - there are only seven days left to hum, strum, march, and sing your way toward a $10,000 reward during the "my harris teeter" jingle contest.
Harris Teeter encourages all Together in Education participants - marching bands, orchestras, music classes, choral groups, or student councils to name a few - to submit their rendition of the "my harris teeter" jingle. The options for creativity are limitless and having fun is a must! The winning school will be selected in March.
The "my harris teeter" jingle contest is an extension of the "my harris teeter" campaign developed by the company during the fall of 2005 and is another way Harris Teeter shows support for its community. The jingle's lyrics reflect the ownership shoppers take in Harris Teeter; the way they refer to Harris Teeter stores as "my harris teeter," and to associates as "my store manager," "my pharmacists," and so on. This year, Harris Teeter is giving schools the opportunity to participate in the program and a chance to record their version of the "my harris teeter" jingle in a professional recording studio and perhaps be featured in a Harris Teeter commercial.
Rules of entry and "my harris teeter" jingle lyrics can be found on harristeeter. Submissions must include a VHS Tape, Mini DV tape or DVD and a completed entry form. All entries must be submitted by February 12, 2009.
Show us how you imagine "my harris teeter" and help your school win $10,000.
Harris Teeter, Inc. with headquarters in Matthews, NC, is a subsidiary of Ruddick Corporation (NYSE:RDK). Harris Teeter is the 21st largest supermarket in the United States with 2008 sales of $3.99 billion. The grocery store chain employs over 21,000 associates and has 177 stores in North and South Carolina, Virginia, Georgia, Tennessee, Maryland, Delaware, Florida, and the District of Columbia.
###