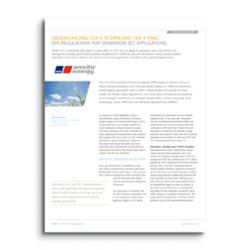 Diesel generators used for emergency power in California and non-attainment areas throughout the U.S. are subject to the Tier 4 standards.
Mankato, Minnesota (Vocus/PRWEB) February 28, 2011
With Tier 4i standards for diesel emissions in effect as of January 1, 2011—and Tier 4 final looming in 2014/2015—MTU Onsite Energy is offering a new white paper about EPA compliance for generator sets. The free download is available at MTU Onsite Energy. "Understanding Tier 4 Interim and Tier 4 Final EPA Regulations for Generator Set Applications" provides an overview of the EPA's standards as they relate to emergency stationary power (ESP) and other generator set applications.
The paper explains that for applications other than ESP, Tier 4 regulations for generator sets are being phased in two steps, beginning with Tier 4 I in 2011. Applications included are load management/peak-shaving, prime power, mobile rental power and spark-ignited engine generators used in non-ESP applications. Diesel generators used for emergency power in California and non-attainment areas throughout the U.S. are subject to the Tier 4 standards. The document also reviews the in-engine design changes and exhaust aftertreatment options that generator set manufacturers are applying to reduce engine emissions.
The free emissions regulations paper is available from local MTU Onsite Energy distributors or can be downloaded from MTU Onsite Energy's "Technical Info" section at
http://www.mtu-online.com/mtuonsiteenergy-northamerica.
MTU Onsite Energy Corporation
MTU Onsite Energy Corp. (formerly Katolight Corporation) is a leading producer of diesel-powered generator sets from 30 to 3,250 kW and natural gas-powered generator sets from 20 to 400 kW for standby, prime power and cogeneration applications. The company also provides automatic transfer switches, paralleling switchgear, controls and accessories for complete power system solutions. Based in Mankato, Minnesota, MTU Onsite Energy Corp. combines the expertise of Katolight and MTU Detroit Diesel Power Generation under one brand to meet the ever-increasing distributed power needs of customers in North America and around the world. MTU Onsite Energy Corp. is part of the Tognum Group's business unit, Onsite Energy and Components. For more information, visit http://www.mtu-online.com
Tognum
With its two business units, Engines and Onsite Energy & Components, the Tognum Group is one of the world's leading suppliers of engines and propulsion systems for off-highway applications and of distributed energy systems. These products are based on diesel engines with up to 9,100 kilowatts (kW) power output, gas engines up to 2,150 kW, and gas turbines up to 45,000 kW.
The product portfolio of the Engines business unit comprises MTU engines and propulsion systems for ships, for heavy land, rail and defense vehicles and for the oil and gas industry. The portfolio of the Onsite Energy & Components business unit includes distributed energy systems of the brand MTU Onsite Energy and fuel-injection systems from L'Orange. The energy systems comprise diesel engines for emergency standby power, prime power and continuous power, as well as cogeneration power plants based on gas engines and gas turbines that generate both power and heat.
In 2009, Tognum generated revenue of €2.5 billion and employs more than 8,700 people. Tognum has a global manufacturing, distribution and service structure with 27 fully consolidated companies, more than 140 sales partners and over 500 authorized dealerships at approximately 1,200 locations. The shares of Tognum AG (ISIN: DE000A0N4P43) have been stock-exchange listed since 2007 and are included in the MDAX.
###