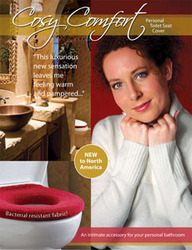 Our target market is for people with private master-bath 'spa like' bathrooms, but it dawned on me that people caught in a power-outage would also benefit hugely from our product
Maple Ridge B.C. (PRWEB) February 5, 2008
With the acceptance of global warming, it is also accepted that more and more crazy weather is happening all over the country. Along with winter storms come power outages. Power outages are at best, an inconvenience and at worst, a living nightmare. With no power on in your home, it can quickly turn into an ice cube, which can last for days and sometimes weeks. Keeping the chill away becomes very important.
Yogo Imports offers a product to keep the chills away when you are most vulnerable, on the toilet. Their luxuriously soft toilet seat covers will stop the chills and discomfort caused by a chilly house and an even colder toilet seat which can pull your precious body heat away. They are 100% Anti -bacterial and made of acrylic fibers. These seat covers will wash and dry easily and will also install in seconds.
"Our target market is for people with private master-bath 'spa like' bathrooms, but it dawned on me that people caught in a power-outage would also benefit hugely from our product," says Gordon Swain, Owner of Yogo Imports.
The covers are available in 5 custom colors and look and feel great even without a power outage. Women especially will appreciate the fact that the cold morning shock of the seat will be gone for good. Cosy Comfort can also reduce heating costs by allowing one to turn down the heat in the house when you do actually have power, which is also a plus for the environment.
In the summer, the sticky feeling from sitting to long is a thing of the past. Look for the covers at a store near you or visit online at http://www.cosy-comfort.com. It's nice to find a product that uses common sense once in a while.
CONTACT:
Gordon Swain
Yogo Imports Ltd
22076 Lougheed Hwy.
Maple Ridge B.C.
Canada
604 463 8940
info@yogoimports.com
###