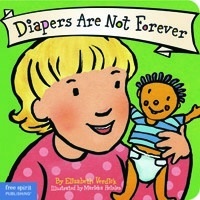 The book doesn't tell parents that there is a specific age for toilet training. That's a personal decision based on child and parent readiness
Minneapolis, MN (Vocus) August 5, 2008
Giving up diapers--going potty like the big kids--can be exciting. But even for children who are ready to leave the diaper behind, it can also be an anxious and stressful time. Learning to use the potty takes patience and practice. Fortunately, there is much a loving parent or caregiver can do to help ease the transition to becoming diaper-free.
Diapers Are Not Forever (Free Spirit Publishing, $7.95) offers reassuring words and fun illustrations to help make reaching this milestone as easy as possible. This straightforward book helps children feel confident about giving up diapers, learn to recognize the need to "go," and take pride in their accomplishment when they are successful. It also includes basic hygiene in kid-friendly terms, part and parcel of successful potty training.
A "Tips for Parents and Caregivers" section at the back of the book provides practical advice from children's health specialists on not rushing a child who isn't ready for the potty, finding motivators, watching for signs of readiness, and creating concrete strategies for easing the transition. "The book doesn't tell parents that there is a specific age for toilet training. That's a personal decision based on child and parent readiness," says author Elizabeth Verdick. "But when parents feel the time is right, Diapers Are Not Forever is a tool that helps young children prepare for this milestone and empowers them to give the potty a try."
Diapers Are Not Forever is the latest addition to Free Spirit's popular Best Behavior™ series. Books in the series have received awards from Dr. Toy, Oppenheim Toy Portfolio, Creative Child magazine, iParenting Media, Parents' Choice, The National Parenting Center, and more.
When little ones are ready to have "underwear under there" instead of diapers, Diapers Are Not Forever will help them on their way.
Excerpts and interviews are available through Free Spirit Publishing.
Contact Jenni Bowring, 612.746.6848, bowring @ freespirit.com
Diapers Are Not Forever
Board Book
by Elizabeth Verdick, illustrated by Marieka Heinlen
ISBN-13 978-1-57542-296-1
-$7.95
-24 pp. color illust.
7" x 7"
for baby-preschool
About the Author
Elizabeth Verdick is the author of more than 30 highly acclaimed books for children and teenagers, including books in the Toddler Tools™ board book series, the Best Behavior series for young children, and the Laugh & Learn™ series for preteens. Her most recent titles include Pacifiers Are Not Forever and See You Later, Procrastinator! (with Pamela Espeland). Elizabeth lives with her husband, daughter, son, and five pets near St. Paul, Minnesota.
About the Illustrator
Marieka Heinlen received her BFA at the University of Wisconsin, Madison, and also studied at Central Saint Martins College of Art and Design in London. She launched her career as a children's book illustrator with the award-winning Hands Are Not for Hitting. As a freelance illustrator and designer, Marieka focuses her work on books and other materials for children, teens, parents, and teachers. She lives in St. Paul, Minnesota, with her husband and son.
About Free Spirit Publishing (http://www.freespirit.com)
Meeting kids' social & emotional needs since 1983
Headquartered in Minneapolis, Minnesota, Free Spirit is the leading publisher of learning tools that support young people's social and emotional health. Free Spirit's mission is to help children and teens to think for themselves, succeed in life, and make a difference in the world.
###