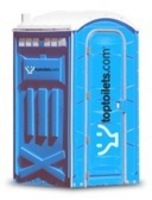 TopToilets.com have provided all sorts of toilet hire services across the UK – once for a Royal Garden Party and once for a well-known red haired radio 2 DJ
(PRWEB) April 13, 2010
As the temperature rises, so does the long list of festivals and events and 2010 looks set to be a bumper year following the downturn in the past two years. And all of these events have one thing in common – the need for a place for people to pee.
The now-familiar portable loo didn't really appear in the UK until the 1980s, when some canny businessman started importing the idea from the United States. They are now a regular site on the UK landscape, replacing Police Boxes as the UK's most common blue box.
"Portable loos offer a fantastic low-cost sanitary solution to event organisers who want to keep their customers happy. The days of holding it in and going behind a bush are long gone thanks to toilet hire services like TopToilets.com," said sales manager Anthony Eyre.
"We even get asked to provide toilets for garden parties, weddings, birthdays – anywhere there's a group of people and not enough loos basically!"
"TopToilets.com have provided all sorts of toilet hire services across the UK – once for a Royal Garden Party and once for a certain well-known red haired radio 2 DJ."
Since their first introduction to the UK 30 years ago, there are now a dazzling array of loos available for hire, from luxury toilet trailers to street urinals to chemical and non-chemical flushing and non-flushing units.
Portable toilets also seem to be an endless supplier of inspiration for comedy videos on YouTube.
"We are always finding funny portable toilet hire videos on YouTube from around the world – we often post them on our blog for people to have a giggle at. If you can't laugh about loos, what can you laugh at?", said TopToilets.com founder Mark Attwood.
"We are expecting a bumper year for loos this year – having supplied events like Glastonbury and companies like Endemol, we are well versed in the logistics of supplying thousands of loos – all of which need cleaning, servicing and maintaining – the subject of a hit Australian comedy film "Kenny" in 2007"
TopToilets.com is part of the TopTriangle.com family of services that includes skip hire, container hire, asbestos removal, fence hire and a wide range of event hire and site services.
# # #