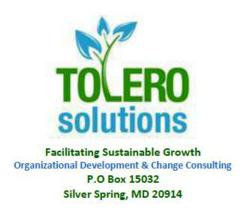 Increasing an organizations' performance goes beyond just a focus on dollars and cents – achieving high performance requires an increased focus on people.
Washington, DC (PRWEB) November 07, 2011
Tolero Solutions, an independent and full service Organizational Development and Change Management consultancy, has just launched a suite of new tools targeted to corporate, government and non-profit organizations to encourage discussions regarding how businesses can facilitate sustainable growth.
These social tools located on Twitter, Facebook, LinkedIn and the Tolero Solutions Think Tank will help encourage thoughtful, on-topic comments from users and will allow participation and sharing of best practices on a multitude of topics, including but not limited to employee retention and engagement, leadership effectiveness, business transformation, diversity and inclusion, generational diversity, and other driving forces that affect an organization's productivity and bottom line. Tolero Solutions hopes to engage organizations in meaningful and innovative discussions on ways to increase their organizational capabilities and create high performing organizations.
"Increasing an organizations' performance goes beyond just a focus on dollars and cents – achieving high performance requires an increased focus on people. That's why Tolero Solutions has recently launched a new and improved social presence," said Scott Span, MSOD President of Tolero Solutions. "This new online presence is designed for OD practitioners, leadership and CEO's, HR Managers and practically anyone working for or within an organization who is interested in increasing organizational capabilities, engaging in meaningful discussions about business challenges and sharing more about how to create focused, responsive and effective organizational improvement solutions."
"Tolero Solutions continues to grow in both the public and private sectors and evolve its outreach in the Washington, D.C area; providing organizational improvement solutions to agencies and companies who want to be more focused, responsive and effective with their strategies and employees. This year, we have reshaped our website and created an increased online presence, not only to provide more comprehensive service offerings, resources and publications, but also to further enable user collaboration and participation in new and innovative ways," said Span
Tolero Solutions understands that in today's business environment, innovative solutions are needed to propel companies forward. And those innovative solutions often come from employees. Tolero Solutions has also launched new service and product offerings to help organizations engage employees, increase productivity and ROI. Additionally, Tolero Solutions has increased strategic partner relationships to assist in delivering a diverse suite of organizational improvement solutions.
"We spent some time analyzing our site, conducting focus groups, and researching the best ways to connect with and engage our audience. Though change is an ongoing process, I believe we're off to a great start to achieving that goal. These new service offerings, increased social presence, and strengthened strategic partnerships will help companies and agencies to collaborate together to get the most out of employees, and help Tolero Solutions achieve its mission, of facilitating sustainable growth for your organization." concluded Span.
Organizations can join in on the discussion, ask a question, or gain additional information via the following resources:

ABOUT TOLERO SOLUTIONS:
Tolero Solutions is Washington D.C. based independent Organizational Development & Change Management consultancy specializing in delivering organizational improvement solutions and facilitating sustainable growth. Tolero supports people and organizations as they change and develop and assists them to be more responsive, focused and effective. By designing and implementing enduring solutions, Tolero Solutions enables leaders, teams and individuals to identify and navigate priorities, collaborate for success, and accelerate and achieve sustainable results. Tolero Solutions may be reached at 240-863-2063 or info(at)tolerosolutions(dot)com
###