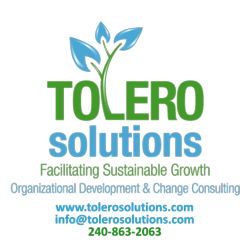 A company is only as good as its people. Investing in your people will help your company grow.
Washington, DC (PRWEB) August 06, 2012
Tolero Solutions, an organizational effectiveness firm outside of Washington, DC, is excited to announce new service offerings geared towards making organizations of all sizes more productive and effective – and thus more profitable.
These segmented offerings help companies who want to innovate and excel or are experiencing changes brought on by acquisitions, mergers, or new technology. They help organizations who are down sizing, growing too fast, or need help with retaining and engaging their employees; and increasing leadership and team effectiveness. There is even a new package offering specifically geared towards the needs of small businesses to help them strategically plan, grow, and build their organization.
The four core service offerings are: transformational change solutions, collaboration & team solutions, strategic organizational solutions, and small business solutions.
Typically organizations need a guide to help navigate through challenges – and Tolero Solutions is poised to be that guide - both during stable and challenging economic times.
A company is only as good as its people. Investing in your people will help your company grow.
President of Tolero Solutions, Scott Span, said, "Based on feedback from our clients - we thought it was time to modify and segment our service offerings to help clients strategically focus on solving real problems that hinder high performance. Our newly packaged service offerings help organizations of any size address issues with internal processes and procedures that typically hold them back from establishing and maintaining a culture of high performance and long term success."
Most organizations are unsure how to navigate the many challenging problems businesses face today. Tolero Solutions is your Think Tank, available to help you navigate through complex problems offering real solutions and sustainable results to help your business – and the economy – to grow.
Tolero Solutions invites you to learn more about some of our offerings by attending our upcoming free webcasts:

Scott Span, President of Tolero Solutions is available for any press inquiries, thought leadership inquiries, or any other questions regarding Tolero Solutions service offerings.
ABOUT TOLERO SOLUTIONS:
Tolero Solutions is Washington D.C. based independent Organizational Development & Strategy consultancy specializing in delivering organizational improvement solutions and facilitating sustainable growth. Tolero supports people and organizations as they change and develop and assists them to be more responsive, focused, and productive and profitable. By designing and implementing enduring solutions, Tolero Solutions enables leaders, teams and individuals to identify and navigate priorities; collaborate for success, and accelerate and achieve sustainable results. Tolero Solutions may be reached at 240-863-2063 or info(at)tolerosolutions(dot)com