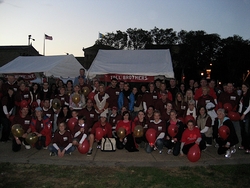 Horsham, PA (Vocus) October 27, 2010 —
Toll Brothers, Inc. (NYSE: TOL), the nation's leading builder of luxury homes, has formed a national fundraising team and is sponsoring a series of "Light the Night" walkathons to benefit The Leukemia & Lymphoma Society. Toll Brothers has a rich history of giving back to the community, hosting an annual fundraiser for the American Cancer Society, among numerous other charitable pursuits. It initiated its Light the Night participation in honor of Joel Rassman, the Company's beloved Chief Financial Officer. Mr. Rassman, who lost his battle with Leukemia on September 14, tirelessly served the Company for more than 26 years.
The Light the Night fundraiser, kicked off by a team from the Company's Michigan Division on September 24, has already far exceeded its $15,000.00 goal by raising $36,660.40 to date. The Company's Corporate office, Westminster Title, and Philadelphia/Bucks County teams all walked on October 23 beginning at the Philadelphia Museum of Art, and raised $21,383 in total. Hundreds of Toll Brothers associates, along with Mr. Rassman's wife Sharon and children Jill and David Brody and Eric Rassman, participated in the event.
Toll Brothers has sponsored Light the Night walks so far in Denver, Colorado; Estero and Orlando, Florida; Glenview, Illinois; Royal Oak, Michigan; Minneapolis, Minnesota; Princeton, New Jersey; New York, New York; Raleigh, North Carolina; Bethlehem and Philadelphia, Pennsylvania; and Reston, Virginia. Over the next few weeks, walks will take place in Tempe, Arizona; and Jacksonville and West Palm Beach, Florida.
Held on fall evenings in communities across the U.S. and Canada, Light The Night Walk is The Leukemia & Lymphoma Society's walk and fundraising event to pay tribute and bring hope to people battling cancer. Thousands of participants raise funds for vital, lifesaving research and patient services and, on these special nights, they carry illuminated balloons in a show of support from a caring community.
Anyone can take part - children, adults and seniors are all welcome. This is a casual fundraising walk with no fitness requirements. People can participate by walking individually or as part of a team; by making a donation online; or by becoming a volunteer or sponsor/partner.
To learn more about the Toll Brothers' fundraising efforts or to contribute, please visit http://pages.lightthenight.org/2010/tollbrothers.
Funds raised through Light The Night Walk support the work of hundreds of the world's best and brightest researchers in their search for better therapies and cures for leukemia, lymphoma, and myeloma.
Toll Brothers, Inc. is the nation's leading builder of luxury homes. The Company began business in 1967 and became a public company in 1986. Its common stock is listed on the New York Stock Exchange under the symbol "TOL." The Company serves move-up, empty-nester, active-adult, and second-home buyers and operates nationwide.
Toll Brothers builds luxury single-family detached and attached home communities; master planned luxury residential, resort-style golf communities; and urban low-, mid-, and high-rise communities, principally on land it develops and improves. The Company operates its own architectural, engineering, mortgage, title, land development and land sale, golf course development and management, home security, and landscape subsidiaries. The Company also operates its own lumber distribution, and house component assembly and manufacturing operations.
Toll Brothers, a Fortune 1000 company, recently received the #1 ranking in FORTUNE Magazine's 2010 World's Most Admired Companies Survey among home building companies, and is honored to have won the three most coveted awards in the home building industry: America's Best Builder, the National Housing Quality Award, and National Builder of the Year. Toll Brothers proudly supports the communities in which it builds; among other philanthropic pursuits, the Company sponsors the Toll Brothers – Metropolitan Opera International Radio Network, bringing opera to neighborhoods throughout the world. For more information, visit TollBrothers.com.
Kira Sterling (formerly McCarron), Chief Marketing Officer (215) 938-8000
###