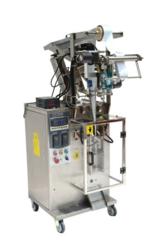 Our capacity has gone up from less than 1,000 sachets per day to a comfortable 15,000 sachets per day.
(PRWEB UK) 24 April 2013
ReAgent Technical Director Darren Wilson explains, "The machine is bespoke to our needs and adds new capability to the ReAgent range. We now have the capacity to offer a comprehensive sachet filling service which can handle liquids, powders, creams and gels and we are specifically targeting the chemical and cosmetics industries. The new machine is known as a volumetric form, fill and seal with stainless steel contact parts. This enables us to offer a wide range of sachet sizes including 30mm, 50mm and 100mm widths and any length between 40mm and 160mm. The machine comes with 2 different dispensing systems, auger for powders and a volumetric pump system for liquids, creams and gels. It's a great facility which offers a huge new capability for us."
Fill rate is between 30 and 60 bags per minute which means that the company can easily produce 15,000+ sachets a day. Minimum runs of 1,000 sachets and maximum runs of 50,000+ sachets are anticipated.
All sachet packaging materials are laminates and customers can buy sachets of paper/PE, PET/Aluminium foil, PE/PET, Nylon/PE which can be tailored to products as required. The formed bags are of 3 seal variety with a top, base and rear seal. The powder augur can fill between 1 gram and 100 gram by weight whilst the liquid pump can fill between 1 ml and 100 ml. Liquids can vary in viscosity from water to a thick cream or gel.
The company is pleased to offer a service to blend liquids and creams to customers' specific formulations where required so long as the product is compatible with stainless steel. The fully automated form, fill and seal machine manufactures the pouch, fills it, seals it and then cuts it off at the base.
A single colour thermal transfer label printer enables each sachet label to be printed with a batch number for full traceability and in accordance with the requirements of ISO 9001 Quality Management System to which ReAgent is accredited. Customers can provide their own labels if preferred or pre-printed films can be bought in and over-printed with the relevant batch reference number.
Darren Wilson adds, "This equipment adds new capability to ReAgent's range and we now have the capacity to provide customers with a form, fill and seal service. It is a much more efficient system and our capacity has gone up from less than 1,000 sachets per day to a comfortable 15,000 sachets per day, although this is a very conservative estimate, depending on the product and the fill size."
ReAgent Managing Director Richard Hudson concludes, "We are delighted to have invested in a new sachet filling facility. We always listen to our customers' requests and feedback and we try to respond to them as much as possible. We believe there is a huge demand for a bespoke sachet filling service and have invested heavily in the new equipment so that we can meet our customers' requirements."