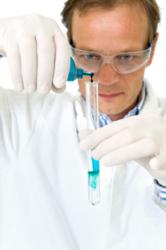 We have become involved in some fascinating projects over the past 18 months including toll blending for a major supplier to the automotive industry
(PRWEB UK) 14 January 2013
The service is being offered to all customers, both existing and prospective and includes chemical mixing and blending, toll manufacturing and formulating.
ReAgent Technical Director Daren Wilson explains, "This is an area of business where we are experiencing real growth and we are delighted to offer this enhanced service to our customers. Our flexible manufacturing facilities are backed up by solid technical expertise and we work in accordance with the requirements of ISO9001 Quality Management System, ISO14001 Environmental Management System and (IIP) Investor in People."
Darren Wilson continues, "We have become involved in some fascinating projects over the past 18 months including toll blending for a major supplier to the automotive industry who contacted us with a precise specification and formulation for a product they were importing from the USA. They were having supply chain issues and explained that it was essential for them to have the product available when they needed it. The customer not only specified where we should buy the raw materials from but had also negotiated the price to be paid."
In order to meet the stringent customer requirements ReAgent implemented a new quality procedure specifically in line with automotive practices and carried out a FMEW (Failure Mode Effect Analysis) to highlight any potential difficulties and then implemented a full PPAP in accordance with the guidelines.
ReAgent now manages the raw material inventory based on customer forecasts so that the finished product is available whenever the customer requires it whilst the customer maintains complete control of the cost and specification of the raw material components.
Darren Wilson adds, "The new system works really well and this customer has been delighted with the quality and level of service we are able to offer."
With over 35 years experience as a leading UK chemical supplier, ReAgent works in accordance with all environmental, safety, quality and manufacturing requirements. Safety is of paramount importance at ReAgent and covers the entire range of chemical blending and mixing services it offers. All our staff are familiar with LEAN manufacturing techniques and are issued with suitable PPE (Personal Protective Equipment) in accordance with the task being performed and in line with current Health & Safety Regulations.
ReAgent MD Richard Hudson adds, "This is just one example of many projects we have been working on where we manufacture a bespoke chemical to customer-specified formulations. We believe this highlights the flexible manufacturing facility we are able to offer to customers. Similar projects have been undertaken for leading manufacturers in coatings, surface treatment chemicals and water treatment chemicals. We always try to listen to our customers and meet their requirements whenever possible."