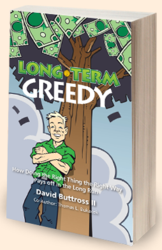 Long Term Greedy is about how doing the right thing the right way over a long period of time will always lead to long term wealth, especially in real estate
Austin, TX (PRWEB) February 07, 2013
Best selling author Tom Bukacek, who recently co authored "Marketing Miracles" with Dan Kennedy, has co authored another book with Austin Real Estate Icon David Buttross called "Long Term Greedy". Long Term Greedy is now available by visiting this website.
Prior to becoming a social media expert and CEO of Black Box Social Media, Mr. Bukacek was involved in Austin, Texas, real estate.
"One of my former companies, The Entrepreneurs Incubator, was headquartered in one of Mr. Buttross's office buildings," says Mr. Bukacek, who is also the Co creator of the step by step video training program Social Media In 7 Minutes. "I would attend his networking meetings and got to know David pretty well. I liked and respected his business philosophies and still kept in touch after our business shut down."
Along with partners Bryan Hancock and Dr. Nikos Biris, Mr. Bukacek wrote his first real estate book called "The Real Estate Millionaire Blueprint." Upon hearing about the book, Mr. Buttross approached Mr. Bukacek about writing a book about his business philosophy.
"Long Term Greedy is about how doing the right thing the right way over a long period of time will always lead to long term wealth, especially in real estate," says Mr. Buttross, who has participated in more than $250 million of real estate transactions and still holds onto a $60 million portfolio. "I believe that the economy went down hill because too many people had the 'short term greedy' or get rick quick mentality, made bad decisions, and hurt our economy. If more people incorporated my Long Term Greedy philosophy, the real estate industry would be in much better shape."
Mr. Buttross didn't come from money. His father was in the military and his mom was a stay-at-home mom. But his humble beginnings didn't hold him back at all. Rather, it taught him how to build a profitable business the right way.
"David has been able to have a very successful personal and business life due to his philosophy that he calls 'Long-Term Greedy'," continues Mr. Bukacek. "He didn't inherit a fortune, he built it through hard work, smart business acumen, and a desire to create 'win-win'relationships with everyone he encountered."
To purchase the book, please visit http://Long-Term-Greedy.com