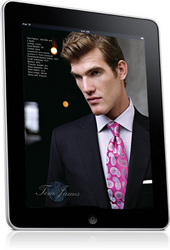 The ability to see a digital representation of an existing Client's wardrobe on the iPad is like being at the home of the client in his closet.
Franklin, TN (PRWEB) March 15, 2011
It's official, the world's largest manufacturer of Custom Suits and fine clothing is going green and increasing their level of Client service by putting all their traditional material in the palm of their employees' hands.
Following a successful test run in the Boston market, Tom James announced today that it will provide its entire sales force with iPads, complete with all the apps and content necessary to replace most currently printed catalogs and brochures. Now, the company that "Comes To You With Fine Clothing" is not only doing its part to "Go Green", but is also enhancing the custom clothing shopping experience even further.
In a conference call, CEO Sergio Casalena and President of Sales Todd Browne described the enormous impact the tablet technology would have on the company's ability to better serve their Clients, as well as the environment. As CFO Phil Williams put it, "This is just the right thing to do for so many reasons."
As part of the culture of Tom James, there is an ongoing effort to constantly bring new innovations, products and services to their clients. The iPad will increase the overall experience in several ways by producing a more engaging interactive presentation. Tom James clothiers will be able to provide a multitude of wardrobe ideas in stunning visual detail ranging from the ideal business wardrobe, seasonal wardrobe trends and a complete selection of sportswear featuring Robert Graham and John Varvatos shirts and Jake Agave Jeans. In addition, a selection of neckwear and accessories as well as five full catalogues of name brand shoes including Allen Edmonds, Cole Haan, Ferragamo, Johnston and Murphy and Zelli, will be readily available on the iPad.
Having all relevant information and images on the iPads will assure Tom James' valued Clients will be able to see and consider the entire line of Tom James products and services. The iPad will also give immediate accessibility to each client's specific information; including previous purchases, measurements and preferences as well as outstanding orders and real time shipping details.
Another exciting feature allows Tom James representatives to access a client's "Virtual Wardrobe". The Virtual Wardrobe will display high resolution digital images of suits, sport coats, pants and shirts already in the client's wardrobe and allow the Representative and client to collaborate to make the best decisions for future clothing.
The company also expects to reap significant savings in postage and printing while taking a load off the backs of its 500+ Professional Tailor sales force who are in the field every day. Tom James estimates that each of its tailors that visit their Client's offices will experience a reduction of over 20 pounds in the amount of materials carried on sales calls. In addition to eliminating the need for most printed sales materials, the 3G-enabled devices will also provide access to the company's intranet and back office systems, further reducing the amount of paper client files needed during appointments.
The rollout will begin in mid-March 2011 and is expected to be completed by June. Fall 2011 will mark the first season in which Tom James no longer prints the catalogs and brochures traditionally used to present products such as shoes, ties, and accessories.
# # #