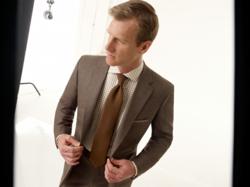 I've started 6 companies and invested $2 million of my own money in them; but the best investment I've ever made is that first $1000 Tom James suit.
Franklin, TN (PRWEB) October 10, 2011
Custom suit retailer, Tom James Company, is celebrating its 45th year this fall. Founded in 1966 to bring custom suit measuring and cloth selection to busy professionals in their offices, Tom James reports an increase in interest in professional dress.
In 1966, most professionals dressed in suits and ties every day. With the advent of casual dress in the workplace in recent years, Tom James has focused more on specific industries such as law and banking to find their clients. That trend is changing.
"While a majority of our clients are still in those industries, we are seeing a return to professional dress more broadly across all industries," says Todd Browne, President of Tom James.
In the 2011 Spend Sights Special Report: Global Luxury Fashion Spending, American Express Business Insights reports Seniors and Gen Y/Gen X consumers are purchasing more luxury fashion products. Tom James is seeing that trend play out in its custom suit business, as well.
"There is a definite renewal of interest in professional dress," says Browne, "And our business growth reflects that."
Tom James owns its own production facilities who also supply to the nation's top high-end retailers. Tom James' merchandisers and stylists also report that "luxury is alive and well, and we are trumpeting it loudly."
Gordon G. Miller, owner and CEO of G3 Systems in VA, says it's about time. "I think people are coming to understand value." Miller, a client of Tom James clothier, Doug Kidd, proudly states he has at least $100,000 worth of Tom James clothing in his closet. Miller practices what his mother taught him: "Everyone understands the cost of something; but few understand the value."
Miller loves the fact his Tom James custom shirts last a lot longer than other shirts he gets, as much as 3-4 times longer. "But for me, it's not just how long it lasts, it's what I call the 'Tom James Effect.' When you slide the custom jacket over top of the shirt that fits, you can just feel success setting up for your day."
Miller must believe in it. Over the years he has 'gifted' his associates and employees with Tom James suits. Why?
"For me," Miller says, "when you change someone's physical state, it changes their mental state. When they are wearing Tom James, their attitudes about themselves change; they tend to be more confident."
David Bradshaw, now a Tom James client, and recipient of one of Miller's gifts said, "I was flattered. I always liked dressing nicely, but I can certainly tell a difference in the quality and cut of what he gave me. You feel good when you wear a nice suit!"
That's Miller's opinion, too. "You can't help but feel good about doing battle with the world when you look that good," he said. "That's all a part of 'value.'"
That idea is making a come-back, even in 'ever-casual' Southern California. Sarah Staggs, a Tom James clothier in San Diego tells of a customer who had not purchased in some time. "He went business casual a few years ago and calls me out of the blue. 'I need 5 suits, immediately,' he said."
Staggs asked him why. "I lost my largest account," he replied.
"I asked them why they switched vendors and they told me, 'These other guys called on us. They came in looking sharp, their pencils were sharp… and every time we see you, you look like you're headed to the golf course.'"
Staggs says there still might be places in California where they bring their dogs to work, but suits are still the preferred mode of dress for most of her customers. She just sold 47, $1000 custom suits to employees of one of her clients. They earned them in a contest.
Up the road in Newport Beach, Orvey Hampton's client watches out his Fashion Island office at the lunch traffic going back and forth between the mall and office buildings. "The other day I counted 12 people and 10 of them were in suits. It's also happening here, in Orange County. "
He says a suit is his choice because "When I'm wearing a suit, there's no question who the boss is. When you're dressing with the crowd, are you fitting in or reflecting your position? With a suit on, you send a message."
Paul Aldo, Ph. D., a customer of Tom James clothier April Johnson makes his living coaching professionals on Executive Presence. "There are all kinds of studies that say that appearance affects success.
"People take what they see, and they fill in the rest."
Tom James founder, Hays, says "It shouldn't be this way, but people do judge us by our appearance."
Aldo's book, Understanding Executive Presence, due out in November, recommends professionals should 'dress to the next level.' "It's just one more way to suggest that you'll fit in."
Hays added, "Our appearance should denote strength and stability, someone people can put their confidence in."
According to Browne, projecting confidence and competence are more important in this economy. "Companies have down sized. Businesses are more competitive.
"If there ever was a time to invest in value. It's now."
Miller continues to channel his mother's wisdom. "I've started 6 companies and invested $2 million of my own money in them," he said, "But the best investment I've ever made is that first $1000 Tom James suit."
Hays banks on the power of dressing professionally. "We want you to be able to walk down the street and people turn and say, 'there goes one of the brightest, smartest, most talented people in our city.'
"Then we'll know we've had some small part in your success."
Tom James is the world's largest custom men's suit manufacturer and retailer. It operates 103 offices in 36 US states and 5 countries, internationally. It owns and operates 3 woolen mills, 8 factories and is proud to say over 70% of its products are made in the USA.
For more information, consult http://www.tomjames.com
###