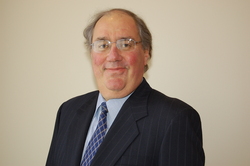 Obviously it's a very difficult and challenging environment for financial institutions lately
Ferndale, WA (Vocus) May 1, 2009
David A. Noyes & Company announces that Tom Bono, 53, has been promoted from Senior Vice-president to a new Vice-Chief Executive Officer position, effective immediately.
Mr. Bono has been with the Chicago-based investment firm since 1977, and spent the majority of those years growing and managing two of the firm's most productive branches, Oak Park, Illinois and Oak Lawn, Illinois. He has been an active member of the firm's Board of Directors since 1986 and served on the Executive Committee for over a decade. Mr. Bono will continue to act in these capacities as he takes on his new responsibilities as Vice-CEO, working closely with Chairman, L.H. Bayley, and President, John Bouckaert. Mr. Bono also currently serves on the FINRA District 8 Committee.
"Obviously it's a very difficult and challenging environment for financial institutions lately," says Mr. Bono, a resident of River Forest, Illinois. "It's the type of climate where fresh ideas and new approaches are needed, which is what I believe I can contribute in this new position."
Despite the current severe recession, Bono points out that the firm's sound fiscal policies, sensible investment strategies, and one-on-one client relationships have helped David A. Noyes & Company achieve a level of success that is uncommon today. In fact, he points out that the Oak Park office recently underwent a major renovation and is looking to expand staff with six new positions. The firm has also expanded in Indianapolis, recently adding an office in the Carmel community.
"We strongly believe in the future of the economy," says Mr. Bono. "Plus there is a tremendous amount of cash sitting on the sidelines waiting to be invested, which means the financial markets may be poised to make a significant turnaround. As Vice-CEO, I hope to have a greater impact on our firm's ability to help our clients take full advantage of these better days to come. "
About David A. Noyes & Company
David A. Noyes & Company is a full-service investment firm headquartered in downtown Chicago, with branches throughout the Midwest, including two in Indianapolis. Founded in 1908, the firm has the unique distinction of being the oldest New York Stock Exchange Member based in Chicago. The privately-held firm offers a comprehensive menu of products and services to individual and institutional clients.
For more information on David A. Noyes & Company visit http://www.danoyes.com.
For more information contact:
John Mora, (815) 439-9160
Mario Bernardi, (312) 606-4608
# # #