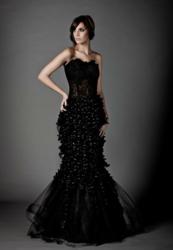 Toronto, ON (PRWEB) November 06, 2012
Founder, Designer and Creator of TOMÉ Dress Salon, TOMÉ is one of Canada's most unique, innovative and creative designers. A graduate from the Academy of Fashion Design School, he began his professional career designing private collections for women in 1988. He seamlessly fuses superb workmanship with haute-couture level creativity, craftsmanship and quality to create dream-like confections for discerning socialites and a celebrity clientele.
TOMÉ Dress Salon on Avenue Road in Toronto is known for their whimsical, adventurous and creative windows displays. This same creative spirit will be showcased by a fresh crop of young models developed and marketed by Doug Sloan and John Stevens of Talent INC Canada at their premiere event to be held in Toronto this November.
Talent INC owner Doug Sloan, and TOMÉ have a long time friendship, and when they saw this opportunity to work together the synergy was contagious.
TOMÉ specializes exclusively in designing one-of-a-kind, personalized couture gowns. From traditional, classic wear to futuristic, cutting edge designs for bridal, evening, day wear and special occasions. Each gown is designed in order to suit the requirements and personal needs of the individual client.
The innovative design team at TOMÉ Dress Salon creates couture gowns using traditional and contemporary colour palettes that is complimented by exquisite hand-beading, crystals, pearls and ornate embroidery.
TOMÉ`s fashions will be featured on November 10th, 2012 at the Doubltree hotel by Hilton on Dixon Road in Toronto.
Doug Sloan of Talent INC Canada, had this to say, ``Tomé has the ability to make every body shape look glamorous. Women flock to him for designs because his fashion don`t only make you look good... they make you feel good"