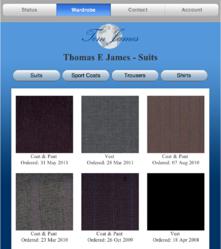 I like it. I don't remember everything I've purchased but the iPad does. It was pretty impressive to see all my suits, ties and shirts right there and easy to access.
Franklin, TN (PRWEB) June 23, 2011
The Tom James Company, the world's largest manufacturer of custom men's suits and fine clothing, has taken a significant step to improve their customers' shopping experience! The clothier, known for meeting clients in their homes or offices, is designing an app that will allow customers to view all their Tom James purchases via their iPads.
Currently, Tom James Professional Clothiers have all their clients' wardrobes available on their company supplied iPads. When the app rolls out in Fall of 2011, the clients themselves will be able to view their wardrobes on their iPads.
Phil Graham, Chief Sales Officer at FIG Marketing, and a Tom James customer from Charlotte, NC said, "I like it. I don't remember everything I've purchased but the iPad does. It was pretty impressive to see all my suits, ties and shirts right there and easy to access."
The convenience of the app extends far beyond the sales call. In the privacy of the office, the home, a hotel room or airport, the client will be able to view high definition digital swatches of all his or her Tom James purchases.
"It's like a virtual window into your closet," remarked Jonathan Kittner, Professional Clothier in the Chicago office of Tom James. "It allows me to show my clients their entire Tom James wardrobe. That makes it infinitely easier for them to remember what they have, and what they need."
The iPad app doesn't stop with the client's existing purchases. It also allows a client to view all wardrobe options for quick and easy selection.
"I have a client that lives 3 hours from my office," said Kittner. "It's hard to connect with him in person, so we "FaceTimed" each other and through the advantages of the iPad, I was able to show him options. I was in my office, he was in his. In 6 minutes we had the selections made and he was on about his day. It doesn't get any easier than that!"
Kittner's client, Jordan Parsons, a Marketing Director, remarked, "I hate the mall more than anything, it's too inefficient for me. And when I used to go, half the time they didn't have my size or specific style preference. In a world of virtual convenience, Tom James Clothing gets high marks from me."
Duncan Ham, Professional Clothier in the Greensboro, NC office, agrees, "The iPad allows us to help the client make the best choice in style and in color. The clients I serve are busy people. I can help them stay more productive because they aren't wasting time 'shopping.'"
The iPads are equipped to allow their tailors to introduce clients to a wide variety of clothing options, including professional and casual wear. Tom James manufactures and represents its own Tom James line as well as represents casual wear featuring Robert Graham and John Varvatos shirts and Jake Agave Jeans. In addition, they carry five full catalogues of name brand shoes including Allen Edmonds, Cole Haan, Ferragamo, Johnston and Murphy and Zelli.
"We offer pretty much anything in a man's closet," commented Ashley Johnson, Professional Clothier in the Franklin, TN office. '"We come to you with fine clothing' is our slogan, but it's much more than that. You also get expert advice on how to dress for every occasion. That's our specialty."
The advent of the iPad app gives the client a clear advantage when planning wardrobe purchases. "With Tom James, you get that personal service," said Kittner. "And now you have your own Virtual Wardrobe available 24/7. I'm pretty sure we are the only men's clothing company with that service available."
All 450 Tom James Sales Professionals in North America, Europe and Australia were equipped with iPads in March after a successful test in the Boston market.
The MyTomJames App will be available for free on the iTunes store in Fall of 2011.
Tom James operates 104 offices in 36 US states and 5 countries, internationally. It owns and operates 3 woolen mills and 8 factories. Tom James was founded in 1966 by businessman and entrepreneur, Spencer Hays. For more information, consult http://www.tomjames.com.
# # #