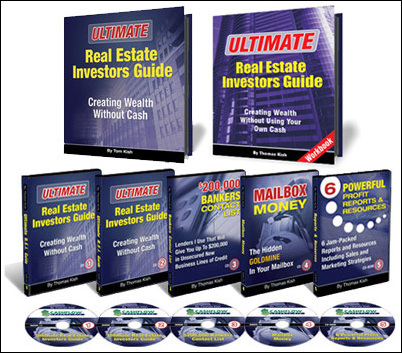 The great deals are out there even if the money to buy them and fix them up has gotten harder to access.
Los Angeles, CA (PRWEB) June 1, 2007
According to real estate financing expert Thomas Kish, "The collapse of the subprime real estate mortgage industry doesn't have to be the end to real estate investing." With an optimistic eye he said "The great deals are out there even if the money to buy them and fix them up has gotten harder to access."
Tom Kish has a built a successful investment career through his own company CashFlowExperts.Biz Inc. using his trademarked system called the Ultimate Real Estate Investors Guide. As a business man and investor he's had the opportunity to keep a critical eye on the top mortgage companies, and other financial institutions who have recently failed due to their poor credit mortgage refinancing strategies.
"Hundreds of individuals are being locked out of securing the financing and funding for their real estate deals and smart investors need to learn how to begin leveraging unsecured business lines of credit." says Tom. "Sure, in recent times it was easy to get money due to the flood of subprime mortgage loans by recognized companies such as Ameriquest and Bear Sterns, but now they have shut their doors and the residential subprime mortgage loan business has all dried up."
Even in this volatile market, Tom Kish believes that there are still profitable real estate deals at reasonable interest rates to be found. He now advises his clients to use "unsecured business lines of credit" as the one of the last money sources for people that don't want to use their own cash to invest in real estate. He stresses that this is not a return to the 80's where there was a onslaught of "no money down" investing, but rather a proven technique that will allow you to leverage new business lines of credit to buy property."
With his Ultimate Real Estate Investment Guide you don't need any income, assets or even good personal credit to access this type of money. He claims he has developed a simple 4-step system that will allow the average person to own real estate through the use of new unsecured business lines of credit without the risk of using the usual refinance methods.
After investigating his real estate training course, we found that he actually provides a list of lenders and banks that he personally uses for his own investments to acquire large business lines of credit. His program also details a wide range of personal advise, technical support and the advantage of one on one or group training.
Perhaps it is time to seek out more unconventional methods and open up the opportunity to diversify our ways of identifying real estate financing. Thomas Kish's method is perhaps just one system available online, but with a little research savvy investors may find their next deal being financed with a new business line of credit.
For more information on CashFlowExperts.Biz and Thomas Kish, please visit: http://www.CashFlowExperts.Biz
Or to review his real estate training course go to: http://www.UltimateRealEstateGuideOnline.com
Prepared and Published by: XLR8 Media Inc.
###