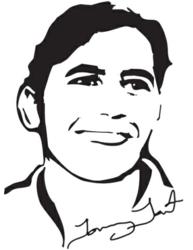 Tommy's death was tragic for our family, yet it was also life-saving as it alerted our family to a genetic condition we didn't previously know about.
Port Washington, NY (PRWEB) October 28, 2011
The 12th Annual Tommy Tant Memorial Surf Classic, Food Festival and Concert presented by Nautica returns to the Flagler Pier in Flagler Beach, FL, on November 12-13, 2011. This annual weekend event celebrates the life of Flagler Beach's local surf brethren, Tommy Tant, who passed away in 1998 from an aortic aneurysm, a ballooning of the large artery that takes blood away from the heart.
A new goal for the event this year is to raise awareness of Marfan syndrome and other aortic diseases. Tommy Tant died as a result of an aortic dissection in 1999. His mother, Barbara, subsequently was found to have the same aortic aneurysm and underwent surgery in 2010 to repair the aorta before she faced the same fate as Tommy. Tommy's brother Will also has his aorta monitored frequently and may require surgery soon too. Some of the proceeds from the Surf Classic will be donated to the National Marfan Foundation, which provides education, support and research on Marfan syndrome and related conditions.
"Tommy's death was tragic for our family, yet it was also life-saving as it alerted our family to a genetic condition we didn't previously know about," said Will, who also explained that his family has been evaluated for Marfan syndrome, a condition that puts people at a significantly increased risk for a tear in their aorta.
Nautica Sponsorship Has Special Meaning
Nautica President Karen Murray first met the Tants at the 2011 Surf Classic, when her company was doing some filming in conjunction with its Ocean 2 Ocean Campaign. When colleagues learned that Tommy Tant died as a result of an aortic dissection, they made sure that Karen met the family right away. That's because aortic disease is also in Karen's family: her son Michael, now a college student, has Marfan syndrome and has already had surgery to repair an enlarging aorta. A long-time member of the National Marfan Foundation's Board of Directors, Karen has been instrumental in fundraising, public awareness and advocacy for Marfan syndrome and related disorders since 1997.
"It was pure coincidence that, through Nautica, I met the Tants, another family with aortic disease. This underscores the fact that aortic dissection is more common than people think; it's why I am so devoted to raising awareness about aortic dissection and its risk factors, particularly Marfan syndrome," states Karen. "Synergistically, having the fundraiser center around a surf event makes perfect sense for the Nautica brand and its connection to the ocean. We are honored to be the presenting sponsor."
Schedule for 12th Annual Tommy Tant Memorial Surf Classic
The Tant Classic will yet again host the much-anticipated Red Bull Night Riders competition under the stars on Saturday, November 12, from 8-10pm. Thousands of spectators are expected to cheer from the pier as six top professional surfers break the limits of aerial surfing. This one-of-a-kind night event is free to the public."
The surf contest will be jam-packed with more than 300 surfers who will compete in four pro divisions and 11 amateur divisions and is expected to draw thousands of spectators. Bright House Networks is the communication sponsor and purse sponsor guaranteeing $5,000 towards the Men's Pro division where three-time defending champion Jesse Heilman is set to compete. Plus, young surfers and parents are teamed up and ready to brave the always-entertaining Tadpole division.
The daily surfing competition begins at 7:30am. And the all-day out-of-the-water festivities include live art, a raffle, and a silent auction. For the fourth consecutive year, Fuel TV is the official media sponsor continuing its commitment and support. Accommodations for contestants and spectators can be found at the Hammock Beach Resort -- the Official Hotel Sponsor.
The 4th Annual Tommy Tant Food Festival and Concert presented by Nautica will take place at Veteran's Park in downtown Flagler Beach from 5:00-7:30pm on Saturday evening before Red Bull Night Riders. Enjoy a delicious culinary experience from more than ten popular restaurants and top it off with an intimate concert by world famous musician Josh Garrels and Brad Corrigan of Dispatch.
Proceeds from the event support the Tommy Tant Memorial Scholarship, awarded to local college students, as well as the Flagler Food Bank. In addition, the Tommy Tant Memorial Surf Classic will now raise awareness and support for the National Marfan Foundation to fight Marfan syndrome and related disorders, many of which cause aortic aneurysms. Enter the surf contest online at http://www.tommytant.com by Sunday, November 6, for a guaranteed spot.
Marfan Syndrome
Marfan syndrome is a connective tissue disorder that affects the heart, blood vessels, eyes, bones, joints and lungs. It is often, but not always, characterized by a tall stature and disproportionately long legs and arms. Other skeletal manifestations are curvature of the spine, a protruding or indented chest and loose joints. The most serious problem associated with the Marfan syndrome is its effect on the aorta, the main artery carrying blood away from the heart. In affected people, the aorta is prone to progressive enlargement, which can lead to tears in the aortic wall that require surgery. If aortic enlargement and tears are left undetected, the aorta may rupture, leading to sudden death.
The life expectancy for people with Marfan syndrome who are diagnosed and treated is now in the 70s due to advances in cardiovascular surgery, increased options in medical therapy and better diagnosis.
Approximately 200,000 people in the U.S. have Marfan syndrome or a related connective tissue disorder. In most cases, the condition is inherited; one-quarter of people with Marfan syndrome are the first in their family to be affected.
About the National Marfan Foundation
The National Marfan Foundation is a non-profit voluntary health organization dedicated to saving lives and improving the quality of life of individuals and families affected by the Marfan syndrome and related disorders by:

Educating affected individuals, family members and the health care community about the Marfan syndrome.
Advocating for and funding clinical and molecular research into the early detection and treatment of Marfan syndrome.
Providing a network of local and special-interest support groups to help affected people and their families share experiences.
For more information on Marfan syndrome, contact the NMF at 800-8-MARFAN or visit the NMF's web site at http://www.marfan.org.
About Nautica
Founded in 1983, Nautica is a leading global lifestyle brand ranging from men's, women's and children's apparel and accessories to a complete home collection. Nautica® products are refined casual classics inspired and energized by the water that are always crisp, clean and distinct. Today Nautica® is available in more than 60 countries with more than 200 Nautica® branded stores worldwide. In 2003, the Company was acquired by VF Corporation, a world leader in branded apparel, including sportswear, jeanswear, outdoor products, imagewear and contemporary brand products. Its principal brands include Wrangler®, The North Face®, Lee®, Vans®, 7 For All Mankind®, Eagle Creek®, Eastpak®, Ella Moss®, JanSport®, lucy®, John Varvatos®, Kipling®, Majestic®, Napapijri®, Red Kap®, Reef®, Riders®, Splendid®, Smartwool® and Timberland®. For additional information, please go to http://www.nautica.com and http://www.vfc.com.
###