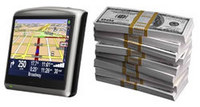 Sheffield, UK (PRWEB) February 7, 2009
Pieter Geelen worked among others for Philips Netherlands where he was instrumental in the development of new media technology, particularly in regulation operating systems. It was here with colleague Peter-Frans Pauwels that he founded Palmtop, developing applications for the very first consumer hand-held devices. Realising the market potential for personal GPS navigation he co-founded Tomtom in 1991. The company grew and rapidly became a market leader synonymous with in-car satellite navigation.
Current market conditions have mooted concerns about longevity in demand for Tomtoms products with today's shares on the Dutch stock exchange hovering around the 4€ Euro mark, a fraction of there value in Q1 2008. The much publicised take over of global digital mapmakers, Tele Atlas was seen as a good strategic fit but experts agree that it cost Tomtom 1 billion Euros more than its worth. Nonetheless, the deal has been viewed as a shrewd purchase given Tele Atlas is one of only two digital mappers thus affording TomTom greater control of costs and possible lucrative licensing opportunities in the near future.
Tomtom is also capitalising on fledgling horizontal opportunities, as in the mobile phone industry with ring tones, fascias and accessories creating huge profits for companies enabling consumer personalisation of their devices. Tomtom has tapped into the custom map and "celebrity voice" market. If you're not happy with Mr or Mrs Average talking to you, you can have sexy Kylie, Claudia or Brad directing you home or James Bond congratulating you on reaching your destination. Further innovations abound including Tomtom LIVE, a system that constantly updates traffic conditions and re-calculates best traffic routes "on the fly". Partnerships are set to form with the integration of web-based information services to direct you to the nearest take-away, Chinese restaurant or newsagent and intuitive applications to calculate and direct you to the cheapest fuel outlets.
With a sound strategic business model, philosophy and programme of innovation Tomtom remains a prudent long-term investment. One hidden group of winners along with the shareholders are the charities supported by Pieter Geelen. A Dutch magazine recently named him as one of the most generous philanthropists in the Netherlands having given away an estimated €132m to good causes and more recently through The Turing Foundation. The primary aims of the Foundation revolve around an eclectic mix of causes; leprosy, education, nature conservation and art are all close to Pieter Geelen heart with each area operating independently and having its own individual goals, budgets and strategy. The foundation was awarded the official Charity status by the Dutch fiscal authority in 2006.
Pentagon GPS is a leading online Sat Nav retailer. For more information call 0114 2858081.
###