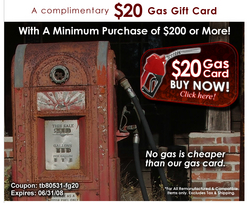 Rowland Heights, CA (PRWEB) June 12, 2008
People who go on road trips, travels, and adventures this coming summertime may have to put their plans on a standstill. This coming summer, people may just opt to spend their vacations at home due to the skyrocketing prices of gasoline. As each week starts, Americans are once again greeted with an increase in gasoline prices.
Toner Boss, however, believes that soaring gasoline prices are not supposed to take the fun out of summertime. With every purchase of $200 or more worth of remanufactured and compatible toner cartridges for HP printers at Toner Boss, drivers and road trippers and get a $20 gas gift card and enjoy driving down the highway for that summer adventure. These are just one of the few summer perks that Tonerboss.com, leading online seller of remanufactured and compatible toner cartridges for HP printers and other brands, constantly offers its loyal clientele.
Toner Boss.com is a company that fully understands the consumers' needs to cut down expenses especially during these hard times. Instead of buying costly original branded toners, Tonerboss.com makes it possible for consumers to get superb quality remanufactured and compatible toner cartridges for all printers including HP without literally burning a hole in the wallet. The company offers a wide array of remanufactured and compatible toner cartridges that are highly compatible with HP printers and other brands. Even better, purchasing remanufactured and compatible toner cartridges equate to a savings of up to 70% as compared to buying original toner cartridges.
Getting the $20 gas gift card is likewise easy. By simply keying in the coupon code (for example: tb80531-fg20) upon purchasing Toner Boss' remanufactured and compatible toner cartridges, customers can instantly get their complimentary gas gift card. Make sure to avail of this exciting promo as this already expires on June 31, 2008.
More and more discount coupons and freebies await loyal customers who avail of compatible and remanufactured toner cartridges from TonerBoss.com. Sign up and join the company's mailing list to be the first to know of invaluable announcements on more up and coming promos, freebies and even bigger discounts in the coming months.
Advantages of Using Remanufactured Laser Toner Cartridges

Remanufactured toner cartridges save consumers money. Recycled toner cartridges are about 70% less expensive than original branded toner cartridges.
Remanufactured toner cartridges reduce waste. The amount of plastic, aluminum, steel, and rubber thrown at landfills will be greatly reduced when toner cartridges are recycled.
Remanufactured toner cartridges conserve energy. Producing a single toner cartridge uses about 3 quarts of oil. Recycling toner cartridges saves oil.
Remanufactured toner cartridges increase employment. When people patronize remanufactured toner cartridges, more people will be given jobs to help create these toner cartridges.
(Taken from INFORM, http://www.informinc.org/fact_CWPtoner.php#advantages , an organization which educates people on the effects of human activity to the environment.)
About Tonerboss.com
Tonerboss.com is the home of high quality remanufactured toner cartridges for HP printers at bargain prices. OEMs and compatible toner cartridges are also offered. The company has a complete range of toner cartridges, fax toners, copier toners, as well as other popular printer toner cartridges for HP, Dell, Xerox, Brother, Canonprinters, and more. Great finds, great prices, as well as 100 percent Product Performance Satisfaction Guarantee can be found only at Tonerboss.com.
# # #