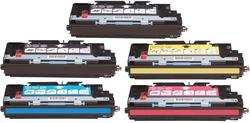 Rowland Heights, CA (PRWEB) January 22, 2008
It is safe to assume that brand name comes hand in hand with quality, especially for printer toner cartridges. However, branded toner cartridges also have a high price tag attached to it. For people who constantly print colored documents, regularly buying color toner cartridges can prove to be very costly. Why spend more than what you have to when there are other options equally the same, at a much cheaper price?
Companies like ColorTonerExpert.com have found a solution to the costly expense of buying original printer toner cartridges. As the name of the company aptly depicts, ColorTonerExpert.com is a company where you can avail of high quality black and color toner cartridges without burning a whole in your pocket. This company is an expert in selling remanufactured toner cartridges for printers and their expertise lies in knowing and handpicking the best and the highest quality remanufactured toner cartridges to resell to consumers. ColorTonerExpert.com is now considered as one of the leaders that sell remanufactured toner cartridges. They offer a wide array of high quality remanufactured toner cartridges that are perfectly compatible with older and new printer models.
ColorTonerExpert.com's products consistently provide their consumers the highest standards for all their toner cartridges. In fact, the company prides itself with their remanufactured color toner cartridges, as they are all resistant to smudging and bleeding. Crisp and clear pictures always come out of the printer all the time. What's more, the company's color toner cartridges are quick drying and each minutest detail of the image can be captured and printed out picture perfectly.
As a company, ColorTonerExpert.com does not believe in making short cuts especially when it comes to all their toner cartridges. All of their products undergo the strictest quality control measures that constantly meet and even exceed Original Equipment Manufacturer (OEM) specifications. Consumers need not worry and always feel secure that all toner cartridges they purchase from ColorTonerExpert.com will never damage their printer.
Aside from their toner cartridges being 70 percent cheaper than their branded counterparts, ColorTonerExpert.com believes in their products so much that each toner cartridge that consumers purchase automatically comes with a performance guarantee. If, at any time or for any reason, these products fail to perform up to standard, the defective product can be easily returned, exchanged or even refunded. Furthermore, all of the company's remanufactured toner cartridges come with a one-year warranty.
At ColorTonerExpert.com, consumers are always assured of value for their money with high quality remanufactured toner cartridges.
About ColorTonerExpert.com
ColorTonerExpert.com is an online reseller of high quality remanufactured toner cartridges at bargain prices. The company offers a wide array of toner cartridges, OEMs and remanufactured, for numerous printer models such as HP, Brother, Canon, Dell, Xerox, and much more. Inkjet cartridges and inkjet photopapers are also sold here.
###