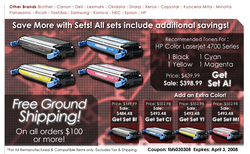 Rowland Heights, CA (PRWEB) March 11, 2008
Discounts, sales, and promotions are always very welcoming news to consumers. However large or small the discount is, consumers love getting these additional perks in their shopping experience. They love getting more value for their money. With this in mind, businesses often find ways to give these benefits to their loyal and prospective clients to constantly keep them happy.
TonerBoss.com, home of superb quality remanufactured and compatible toner cartridges for HP printers and other brands, recognizes the need of consumers to save more money. They offer a wide array of remanufactured and compatible toner cartridges for all printer brands; most especially the most sought after HP toner cartridges. Best of all, consumers get to save up to 70% on the cost of these toner cartridges, as compared to buying the original branded ones. That in itself already gives them a lot of savings.
To add more to the cost-saving benefits of shopping for toner cartridges at TonerBoss.com, the company is also offering Free Ground Shipping on all orders of remanufactured and compatible toner cartridges for purchases $100 or more. By simply keying in the coupon code (for example: tbfs030308) upon purchasing the remanufactured and compatible toner cartridges, customers can enjoy even more perks. The coupon code promo expires on April 3, 2008, after which, the company will revert back to its original free shipping policy on toner cartridges for orders $150 and above.
More and more discount coupons and freebies await loyal customers who avail of compatible and remanufactured toner cartridges from TonerBoss.com. Sign up and join the company's mailing list to be the first to know of important announcements on more up and coming promos, freebies and bigger discounts in the coming months.
About Tonerboss.com
Tonerboss.com is the home of high quality remanufactured toner cartridges for HP printers at bargain prices. OEMs and compatible toner cartridges are also offered. The company has complete range of toner cartridges, fax toners, copier toners, as well as other popular printer toner cartridges for HP, Dell, Xerox, Brother, Canonprinters, and more. Great finds, great prices, as well as 100 percent Product Performance Satisfaction Guarantee can be found at Tonerboss.com.
###