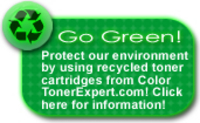 Each laser toner cartridge thrown in a landfill can take more than 450 years to decompose. Each year, more than 300 million cartridges find their way in landfills. If nothing is done fast to avert this crisis, our world will die of trash suffocation. By simply using remanufactured laser toner cartridges, we all do our own part in saving our world one laser toner cartridge at a time
Rowland Heights, CA (PRWEB) June 4, 2008
Slowly but surely, Mother Earth is dying. Pollution can be found everywhere from land, sea and air. One glaring example is the landfills. These dangerous eyesores are fast becoming filled to the brim and if nothing is done to remedy this, then it will only be a matter of time before the whole human race chokes on all the tons of garbage it produces everyday.
Color Toner Expert believes that there is still a chance to save Mother Earth and everybody should work towards a greener and cleaner world. One very effective way of doing a part in saving the world is by using remanufactured laser toner cartridges. By simply reusing and refilling old laser toner cartridges, non-biodegradable trash in landfills is decreased.
"Each laser toner cartridge thrown in a landfill can take more than 450 years to decompose. Each year, more than 300 million cartridges find their way in landfills. If nothing is done fast to avert this crisis, our world will die of trash suffocation. By simply using remanufactured laser toner cartridges, we all do our own part in saving our world one laser toner cartridge at a time," says James Hsieh, managing director of Color Toner Expert.
Since introducing remanufactured laser toner cartridges many years ago, the manufacturing process has greatly improved. Gone are the days when printers were at risk of getting damaged or even destroyed when used with remanufactured laser toner cartridges. Now, with the high quality manufacturing process done at Color Toner Expert, nothing is left to chance. Remanufactured laser toner cartridges undergo a strict manufacturing process comparable or sometimes even better to that of original equipment manufacturer (OEM) standards and specifications.
Aside from helping to save the environment, remanufactured laser toner cartridges from Color Toner Expert are also up to 70% cheaper than their original counterparts.
Help save Mother Earth. Start using Color Toner Expert's remanufactured laser toner cartridges and give Mother Earth a fighting chance.
Advantages of Using Remanufactured Laser Toner Cartridges
As cited from INFORM, http://www.informinc.org/fact_CWPtoner.php#advantages , an organization dedicated to educate people about the effects of human activity to the environment:

Remanufactured laser toner cartridges help save money. Recycled laser toner cartridges can go to as much as 70% cheaper than original branded laser toner cartridges.
Remanufactured laser toner cartridges minimize waste. Recycling used laser toner cartridges lessens the amount of plastic, steel, aluminum, and rubber thrown at landfills.
Remanufactured laser toner cartridges save energy. About 3 quarts of oil are being used to produce a single toner cartridge. Recycling laser toner cartridges helps conserve oil.
Remanufactured laser toner cartridges bring more jobs. As more people use remanufactured laser toner cartridges, there will always be a need for people to supply the growing demand.
About ColorTonerExpert.com
ColorTonerExpert.com is an online reseller of high quality remanufactured laser toner cartridges at bargain prices. The company offers a wide array of laser toner cartridges, OEMs and remanufactured, for numerous printer models such as HP, Brother, Canon, Dell, Xerox, and much more. Inkjet toner cartridges and inkjet photo papers are also being sold.
###