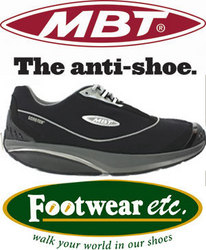 It's always best to purchase shoes from authorized dealers, or else you never truly know what you're getting.
Sunnyvale, CA (Vocus) September 30, 2010
Footwear etc. is excited to carry toning shoes from the leading comfort/wellness manufacturers. These toning shoes create natural instability, which in turn can help alleviate back and joint pain. People with foot pain such as Plantar Fasciitis can find great benefit due to the rocker soles that these shoes are known for; this rocking motion helps keep the Achilles tendon and plantar fascia stretched. Toning shoes are rapidly gaining in popularity since they are stylish as well as provide toning and wellness benefits. Since toning shoes make you utilize muscles that you don't typically use when you wear regular shoes, customers have found that that they greatly enhance not only their exercise programs, but also everyday wear.
MBT Shoes (Masai Barefoot Technology) were the first company to develop shoes with natural instability to strengthen muscles, improve posture, and alleviate back and joint pain. The patented Masai Sensor in the sole, and integrated balancing area in the midsole, force you to find your core and balance yourself as you use the rolling motion when you walk. Customers have reported a huge relief in foot and back discomfort. MBT has come out with many exciting new styles for the fall, from casual walking shoes to dressy shoes you can wear to work.
Skechers Shape Ups has developed its own technology for creating instability and therefore toning properties. These shoes are superb if you love a cushiony feel for your feet. The kinetic wedge creates resistance to maximize your workout, and absorbs energy to minimize impact. Skechers come in a variety of styles, including sandals, walking shoes, running shoes, and boots.
New Balance has added toning shoes to its collection of athletic footwear. The Rock and Tone shoes provide a very lightweight, rocker bottom that provides spring in your step as you walk. Brand new to the marketplace, the True Balance models contain a balance board technology that provides the natural instability that toning shoes require, yet with the appearance of regular shoes. New Balance shoes have the added benefit of coming in several widths, sure to please everyone.
Fit Flops are a great new addition to the flip flop market, with a twist. Rather than having minimal support like many flip flops, Fit Flops contain a patent-pending Micro-wobbleboard midsole technology, which reduces shock and provides the benefits of rocker sole technology in flip flops and sandals. Great for casual wear, Fit Flops are designed to give you a workout as you walk.
Reebok has entered the toning shoe market with two additions: the EasyTone and the RunTone. The EasyTone is specifically designed for walking and everyday activities, while the RunTone is perfect for running and working out. Both models feature pods of moving air, which force your muscles to work harder, and SmoothFit seamless design to eliminate potential irritation points from seams. The Reebok EasyTone and RunTone shoes provide toning benefits without looking like typical toning shoes.
Footwear etc. cautions customers to be sure that they know where their shoes are coming from; there are many web sites that sell knock-off shoes for all of these brands. District Manager Andrew Monarch adds, "It's always best to purchase shoes from authorized dealers, or else you never truly know what you're getting."
These Fall Collections are available now online at footwearetc.com and at their retail store locations in Northern California and San Diego.
About Footwear etc.:
Footwear etc. is a well-established, family-owned business, headquartered in Silicon Valley, CA since 1986. The company is committed to improving customers' quality of life by offering brand name products that demonstrate their belief in the need for healthful, comfortable and fashionable footwear. Footwear etc. operates eight retail stores located throughout the Bay Area and also offers their products on their website and catalog. To find out more, please visit http://www.footwearetc.com.
# # #