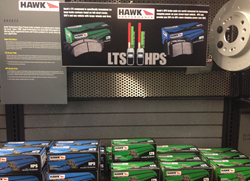 Four Wheel Parts recognizes that the addition of big wheels and tires to any vehicle requires more stopping power than OE pads can provide.
Compton, California (PRWEB) September 03, 2014
4 Wheel Parts, leading industry retailer of gear and equipment in the off-road market, is featuring Hawk Performance Brake Pad Applications in its 66 stores across the United States. Hawk's HPS (High Performance Street) and LTS (Light Truck & SUV) models are in-store and proving to be popular items for 4x4 enthusiasts. The Jeep and truck accessories increase performance and enhance safety in on-road and off-road settings.
"Hawk Performance is proud to have worked with Four Wheel Parts to put together a program that appeals to the Jeep, truck and SUV market," says Todd Romano, Managing Director of Hawk Performance. "Four Wheel Parts recognizes that the addition of big wheels and tires to any vehicle requires more stopping power than OE pads can provide."
Adding bigger wheels and tires to a truck, Jeep or SUV is among the most popular modifications off-roaders perform. Hawk Performance worked closely with the 4 Wheel Parts team to identify and quantify the performance advantages that any driver can recognize out on the road by upgrading to Hawk performance friction.
When off-roaders upgrade the visual appeal of their vehicles, they have to enhance the braking capabilities as well to counteract additional demands that big wheels and tires put on an OE braking system. Romano points out that "this one small change is the most affordable performance upgrade you can make to any vehicle, and stopping is the most important thing you do on the road."
"We're excited about our new partnership with Hawk Performance and the opportunity to bring a world-class leader of performance braking products to our customers," says Ahad Mirza, 4 Wheel Parts Merchandising Brand Manager. "Our mission is to provide our customers with best in class products, and Hawk Performance helps us achieve this."
As a chief supplier of severe duty and high-performance friction products, Hawk Performance engineers aftermarket motorsports parts and accessories. Since 1990, Hawk has pioneered friction materials for applications in the automotive, industrial, military, and aerospace industries. The company's friction products have garnered more motorsports championship wins than any of its competitors.
About 4 Wheel Parts: 4 Wheel Parts is a retailer and service provider specializing in aftermarket parts for off-road and 4x4 enthusiasts. With more than 70 locations throughout North America, 4 Wheel Parts supplements its retail centers with a robust mail-order and e-commerce distribution network to serve customers around the country and around the world. 4 Wheel Parts carries a large inventory of truck and Jeep parts, including tonneau covers, wheels, and nerf bars. The toll-free order number is 877-474-4821.