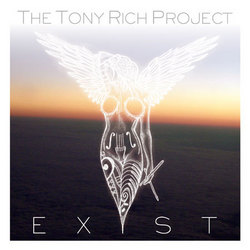 Considering the brazenness of most pop music, Rich's subtle approach is both surprising and satisfying.
Santa Monica, CA (PRWEB) October 8, 2008
The multi-talented Hidden Beach Recordings' singer & songwriter, Tony Rich makes a splash with the release of his fifth album, EXIST, entering the Top 40 (#31) on The Billboard R&B/Hip-Hop Albums chart. The album excelled in the digital domain by scoring a 27% percent share for the first week of sales placing it in the Top Ten albums sold on iTunes. This is a rare feat for an album on Billboard's R&B/Hip-Hop Albums chart.
Released on September 23, EXIST has been described as a collection of songs that speak both to the heart and the mind. The lead single 'Part the Waves' currently sits at #31 (w/ a bullet) on Mediabase Urban AC chart.
The album reviews are pouring in from the critics:

USA TODAY tells us that "Considering the brazenness of most pop music, Rich's subtle approach is both surprising and satisfying."
Creative Loafing Atlanta says, "Not since Sade's Love Deluxe has R&B sounded so lush and liberating. Exist is Tony Rich at his best - again."
Overall, the entire album is a melodic 11-track set that blends elements of soul, jazz and funk into what can best be described as a moving masterpiece. From the sensual tones of 'It Would Be A Sin (Without U)', to the familiar comfort of 'Jordan,' EXIST features all Rich-penned songs.
He was so inspired by his body of work that he photographed himself for the CD layout and designed the album packaging. The most intriguing of the photos is the CD back cover depicting a naked Tony Rich. While the image is polarizing, it is meant to show that one 'exists' even when stripped of all his or her worldly possessions. This is reflective of his career; starting with his huge commercial success in 1997 through the years of his fans wondering 'Where is Tony Rich' and finally the present, with him finding a home with Hidden Beach, known for its roster of quality artists.
The Detroit-born, Tony Rich began his career as a songwriter and producer, penning songs for Elton John, Boyz II Men, TLC and Johnny Gill, before releasing his 1996 debut album, Words. The hit single spawned from that album, "Nobody Knows", peaked at number two on the Billboard Hot 100 chart and climbed to number one in the UK. This propelled the single and album to sell more than one million units each and in 1997, Rich won a Grammy Award for the Best R&B Album. Since then, Rich released three critically praised albums: Birdseye, Resurrected and Pictures.
Editorial Note: To gain access to art work and a YouTube video stream contained within this press release, please visit BillboardPublicityWire.com and conduct a search on 'Tony Rich'. Tony can also be seen and heard on his dedicated Hidden Beach artist page at HiddenBeach.com/TonyRich.
ABOUT HIDDEN BEACH RECORDINGS:
Founded by music veteran Steve McKeever, Hidden Beach Recordings is an independent record label based in Santa Monica, CA. Along with introducing music sensation Jill Scott and saxophonist Mike Phillips, Hidden Beach is also home to trombonist Jeff Bradshaw, husband and wife-led group Kindred the Family Soul, singer/songwriter/guitarist Peter Black and Unwrapped, the ground-breaking Hip-Hop/Jazz hybrid series.
###