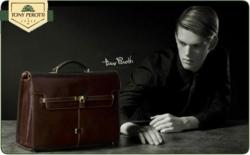 A brand should invoke a positive image and Tony Perotti's image is one of superior quality. We are proud to add their collection to our catalog
Mays Landing, NJ (PRWEB) May 29, 2011
LeatherPaks' company mission is to offer its customers the finest leather bags available, to further their goal LeatherPaks introduces the Tony Perotti Collection of Italian leather bags
When it comes to leather travel bags and briefcases, a fine quality product portrays a positive image. The decision to launch the Tony Perotti Italian Leather Collection is based on their commitment to quality, which compliments LeatherPaKs goal as a company.
Tony Perotti is a leading designer of Italian leather briefcases, leather wallets and leather travel bags, made with eco friendly Italian leather. Their real classic Italian leather briefcases are designed for both men and women and are made with the highest quality of Italian leather available. Tony Perotti manufactures a variety of briefcases for laptops, single gusset, double gusset and triple gusset laptop cases as well as traditional snap and zip leather briefcases. Tony Perotti produces superior quality products, creating handcrafted classic leather creations that combine fashion as well as modern function.
Tony Perotti's combination of high grain leather and hand-tanned eco-friendly oils makes their leather products original, unique, and timeless art pieces. Drawing inspiration from personal experiences and modern fashion trends. Tony Perotti Italian leather briefcases, duffel bags and leather wallets are a perfect fit with today's style conscious professional on the move.
Tony Perotti's commitment to quality transcends their product line and is applied also to the environment, believing that maintaining respect for the environment is their responsibility Using ecologically-correct tanning methods that are non-toxic to both humans and the environment reflects Tony Perotti's tradition of contributing to the preservation of our environment by using age-old craftsmanship and modern environmental wisdom. Tony Perotti uses skills and methods passed down from generation to generation for conserving the natural beauty of leather without harming Mother Earth.
"A brand should invoke a positive image and Tony Perotti's image is one of superior quality. We are proud to add their collection to our catalog," said Walter Schmidt, owner.
# # #