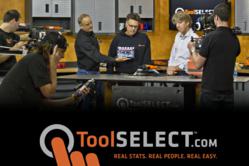 Our new forum lets users easily read and share insights, videos and photos in relevant conversations.
Grand Rapids, MI (PRWEB) July 10, 2012
Today, ToolSelect.com launched its new community section, making it easier than ever for members to discuss and follow tools, industries, projects, and other members through a more interactive, intuitive interface.
"Our goal was to make interaction among our users more effective," says Tom Klein, vice president of marketing and merchandising with ToolSelect. "The new discussion boards use easier navigation and a visual feel similar to the other social platforms our members already use. Our new forum lets users easily read and share insights, videos and photos in relevant conversations."
The forums are now broken down into several different categories, making it easier for users to find and discuss their tools and applications of interest. An ability to follow topics, such as an industry, tool category, tool brand, people or news means members can easily get the information they want without having to incessantly search every time they visit.
"The new follow feature will be very helpful to members looking for a tool or advice on a project," says Klein. "A member can follow discussions on impact drivers, for instance, looking to see what others have to say before making a purchase. Once that member gets all the necessary info, he or she can simply unfollow the category, as it's no longer relevant."
The same strategy can be used for members looking for advice on a specific project or application such as a kitchen remodel or roof repair.
Along with the new features come more detailed profiles for ToolSelect members. Users can now share more in-depth descriptions of who they are and where their expertise lies. Members can also see their ongoing discussions, things and people they follow and notifications for activities relating to them.
Top participators within the community will be highlighted on the community page in appreciation of their efforts building and sustaining the community.
"These changes all came from user feedback," says Klein. "We've always said ToolSelect is powered by our users, and this is a prime example of that. They wanted more interaction, more features and more details, and we believe this improved community section succeeds in giving it to them."
About ToolSelect
ToolSelect is an unbiased community powered by its members that covers all aspects, types and brands of tools, but does not actually sell any tools. ToolSelect's members include everyone from experienced tradesmen to complete novices. Users trade tips, compare notes, debate their favorite tools and work together to help each other make intelligent purchasing decisions.
Like ToolSelect on Facebook (ToolSelect)
Subscribe to ToolSelect on YouTube (toolselecttv)
Follow ToolSelect on Twitter (toolselectmedia)