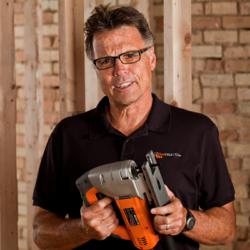 In addition to giving visitors a better idea of who we are, the new design also makes navigating the entire site easier
Grand Rapids, MI (PRWEB) May 09, 2012
Tool reviews and a community of members helping each other make smart purchasing decisions are what ToolSelect.com is all about, and the newly redesigned home page makes this clear to first-time visitors to the site, predominantly featuring video tool reviews, ongoing discussions and making it easy to sign up and become a member.
Under the previous design, user feedback showed some first-time visitors mistook ToolSelect to be a retailer of tools, which is not the case. ToolSelect does not sell any tools, instead focusing on video power-tool reviews with unbiased tool testers as well as fostering a community of members who share reviews, tips and advice to each other.
The new design puts more focus on video tool reviews. Each week, two video reviews—one from a professional tradesman and another from a do-it-yourselfer—are featured on the home page, as are the latest reviews.
"In our video reviews, we give ToolSelect members a tool to try out for a while," says Gerry Barnaby, director of excitement with ToolSelect. "After they've used it, either on the job or at home on a do-it-yourself project, we bring them into the studio and get the full lowdown of all the pros and cons. Our testers rate the tools on performance, design, quality and value."
From there, other community members can comment and add their own opinions on their experiences with the same tools. All these reviews and discussions come together to give new and existing members a well-rounded overview of any tool.
Those discussions are also featured more prominently on the redesigned home page. A large search bar lets users search and find anything immediately upon arriving on the site, while some of the most popular searches are featured below the search bar.
"In addition to giving visitors a better idea of who we are, the new design also makes navigating the entire site easier," says Tom Klein, vice president of marketing and merchandising with ToolSelect. "The video reviews and discussions are right there for our members, and for those who aren't members, it's easier than ever to sign up. The new home page helps bring together the key elements of our community, and better conveys the value of becoming a member and contributing to our community."
About ToolSelect
ToolSelect is an unbiased community powered by its members that covers all aspects, types and brands of tools, but does not actually sell any tools. ToolSelect's members include everyone from experienced tradesmen to complete novices. Users trade tips, compare notes, debate their favorite tools and work together to help each other make intelligent purchasing decisions.
Like ToolSelect on Facebook (ToolSelect)
Subscribe to ToolSelect on YouTube (toolselecttv)
Follow ToolSelect on Twitter (toolselectmedia)