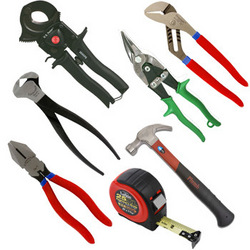 Wilmington, NC (PRWEB) September 3, 2008
All-Spec Industries, a leading online distributor for tools, static control products, test and measurement equipment and more is pleased to announce select Cooper Tools hand tools priced at least 40% below the manufacturer's list price.
Many of Cooper's popular hand tools are included in the Cooper Tools tool sale. The durable Crescent RapidSlide adjustable wrench set includes a 6" wrench and a 10" wrench; this set is listed at over $34 but on sale for $17.40. Crescent's tongue and groove pliers set is priced at $12.41 and Plumb hammers are less than $9. Other items included in the sale are both left and right cutting Wiss snips, Lufkin tape measure, H.K. Porter cable cutter and a Nicholson hacksaw blade set that fits most hacksaws.
Large volumes of these tools by brands such as Crescent, Lufkin, Wiss and Plumb have been brought in. Stock up and save while supplies last; the low prices will disappear when the tools sell out.
For more information on the Cooper Tools blowout sale contact Customer Service or visit http://www.all-spec.com.
Established in 1988, All-Spec Industries carries ESD materials, electronic manufacturing tools, soldering stations and irons, and telecom, field service, and test & measurement equipment. All-Spec Industries normally ships 97% of all in-house stock orders received each day. In some cases, the product will ship directly from the manufacturer or one of our other off-site warehouses.
Contact:
Customer Service
All-Spec Industries
1-800-537-0351
http://www.all-spec.com
###