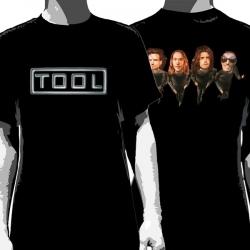 Fans have been continuously buying Tool merchandise from us without fail. It shows how truly loyal Tool fans are.
Melbourne, Victoria (PRWEB) February 12, 2013
Just last week the popular Melbourne radio station Triple J announced metal band Tool will be touring Australia this year. Fans of the band are reacting with great enthusiasm since it's been 7 years since their last studio album "10,000 Days" was released. Owner of rock music store Planet 13, Shawn Scott says "The orders for our Tool shirts have gone crazy because whenever a band announces a tour, it usually means an album is on the way, too. So fans have put two and two together and know there's a new Tool album coming soon."
Tool fans were ecstatic when the news of the band's April and May return to Australia was released on the Triple J website. It didn't take long for fans to spread the news via social media sites and forums, bolstering the already growing excitement and creating a high demand for the band's merchandise at renowned merch store Planet 13.
"Tool has always been amongst our top selling bands," says Shawn Scott, life-long musician and owner of rock shop Planet 13, "and despite the fact they haven't brought out any new material for ages, their fans have been continuously buying Tool merchandise from us without fail. It shows how truly loyal Tool fans are."
Shawn goes on to say that the recent announcement has "shocked fans into buying mode. Our Tool shirt sales have really spiked over the last couple of days. And it's completely due to the fact fans want to be geared up for the upcoming shows."
The former punk-rock singer also notes that it's not just the live show that's excited fans, but "the anticipation of a new album. Whenever a band goes on tour, it's always in support of recently released, or upcoming, new material. So this means, a new Tool album is on the way."
"We've been steadily releasing new Tool shirt designs over the years and fans have been loving them," remarks Shawn, "so I'm curious to see how frantic the sales will become when the band starts releasing designs specifically for this tour and their new album." Shawn also mentions fans love the unusual shirt designs that Tool brings out, because "They're really different to the normal rock shirt design, they've been a bit eery and sci-fi of late, and I think that difference is another reason their shirts are so popular."
Now with only a couple of months until the band Tool hit Australian shores again, Planet 13 is dealing with the increased demand for their Tool t-shirts with ease, "Even though the Tool sales have spiked and we're running off our feet right now, it's what we we do, and what we have done for nearly 10 years. Planet 13 gives fans totally official, quality merchandise with the best customer service."
Shawn ends by saying that "any Tool fans who want to gear up for their Australian shows should order their merch sooner rather than later, because the way the hype's looking, we're probably going to sell out pretty soon."
To view Planet 13's full range of Tool shirts and other band merchandise, visit http://www.planet13.com.au/.
A bit about Planet 13™
Planet 13™ was conceived and created in 2004 by Shawn Scott, front man of the once-popular Melbourne based glam/punk band Voodoo Lovecats. His online merch store Planet 13 stocks an extensive range of the best quality and fully licensed entertainment accessories, band shirts and music merchandise, all while providing the best customer service around.