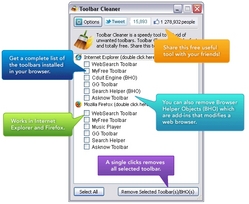 With Toolbar Cleaner, users can easily remove unwanted toolbars within minutes. It's easy to select toolbars according to each browser. Users can choose to delete a toolbar from one browser but decide to keep it on the other.
(PRWEB) March 9, 2011
Visicom Media today announced the release of its toolbar cleaner utility. Toolbars are a popular browser extension useful to millions of users. However, users sometimes end up with too many toolbars that are not used or toolbars that won't uninstall properly. Toolbar Cleaner is a speedy tool to get rid of unwanted toolbars. Toolbar Cleaner allows users to easily remove toolbars they're not using or won't uninstall the proper way.
Toolbar Cleaner is the first free tool to specifically address toolbar cleanup according to each browser and allow users to keep only the toolbars they really need. By distributing Toolbar Cleaner free of charge, Visicom Media hopes to keep the toolbar market user-friendly.
The characteristics of the application are as follows:

Removes almost any toolbar or Browser Helper Object (BHO)
Removes toolbars from both Internet Explorer and Firefox
Allows the user to select the toolbars he or she wants to remove
Simple and fast
Totally free
Toolbar Cleaner can be downloaded by visiting toolbarcleaner.com
###