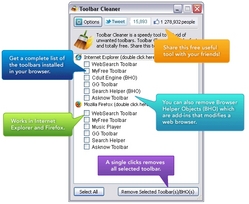 Toolbar Cleaner is already removing more than 40,000 toolbars and BHOs per month
(PRWEB) April 15, 2011
Visicom Media today announced the release of the new version of its toolbar cleaner utility. Toolbar Cleaner is already removing more than 40,000 toolbars and Browser Help Objects (BHOs) on a monthly basis. In addition to removing toolbars and BHOs from Internet Explorer and Firefox, the newest release can now remove apps from Google Chrome. With the new version, Toolbar Cleaner gives users more control over their browsers. The new version can remove apps from Google Chrome that users were not even aware of. Moreover, some apps can make the browser unstable or even crash. After removing the faulty apps with Toolbar Cleaner, the browser will be more stable.
Toolbar Cleaner is the first free tool to specifically address toolbar cleanup for each browser and to allow users to keep only the toolbars and apps they really need. By distributing Toolbar Cleaner free of charge, Visicom Media hopes to keep the toolbar and app market user-friendly.
The functions and characteristics of the application are as follows:

Removes apps, toolbars, and BHOs from Google Chrome
Removes toolbars and BHOs from both Internet Explorer and Firefox
Allows the user to select the toolbars he or she wants to remove
Simple and fast
Totally free
Toolbar Cleaner can be downloaded from toolbarcleaner.com.
About Visicom Media
Visicom Media has developed a leading toolbar platform that enables publishers to engage with users and enhance their browsing experience. Some of the most recognized brands on the Web have put their trust in the Dynamic Toolbar platform, including Yahoo!, Comcast, NASDAQ, VeriSign, Oracle, Verizon, Date.com, iMesh, Miniclip, and Big Fish Games.
###