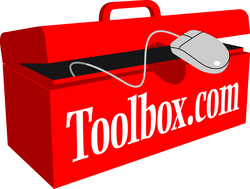 Scottsdale, AZ (PRWEB) May 13, 2010
Toolbox.com, the operator of online communities for professional knowledge sharing, today announced that the company has appointed Jonathan Chalon to serve as its new executive vice president of sales. In this position, Chalon will focus on providing leadership for the sales functions, including directing revenue strategy, managing sales units, and delivering superior customer service for Toolbox.com advertising partners.
"Jonathan has a proven track record growing sustainable revenues and a keen sense for delivering business value that drives success," commented George Krautzel, co-founder and president of Toolbox.com. "I am pleased to welcome him to the executive team, where he will help to lead Toolbox.com into the next phase of our growth."
Chalon most recently served as vice president of the Entertainment Technology Division at Penton Media, where he was responsible for P&L of 10 trade publications, 8 websites, and multiple events totaling $25 million in revenues and over $6.5 million in profits. At Penton, he successfully diversified the business with over $5 million of online revenues and developed new online products on a monthly basis. He also launched the upscale entertainment publication Vlife as an extension of Variety magazine. Chalon also held executive positions at Spin, The Industry Standard, and Inc. magazine.
"I am excited to join Toolbox.com at this point in the company's development," commented Chalon. "Backed by a history of over 11 years in the social media space, Toolbox.com is positioned to change how professionals do their jobs and how marketers communicate with their customers."
About Toolbox.com
Toolbox.com helps professionals do their jobs better by enabling them to easily share knowledge with experienced peers. The online communities at Toolbox.com include professional networking, blogs, discussion groups, wikis, and a vendor research directory through which executives and professionals collaborate to solve problems, make decisions, and increase workplace efficiency. Through the community, advertising partners can engage prospects and customers either directly or by integrating their message through a proprietary contextual matching engine. This combination of community and advertising value has made Toolbox.com a leading destination for professionals and a leader in online advertising. Toolbox.com is a division of Corporate Executive Board (NASDAQ: EXBD). For more information, visit http://www.toolbox.com.
About Corporate Executive Board
The Corporate Executive Board (NASDAQ: EXBD) drives faster, more effective decision-making among the world's leading executives and business professionals. As the premier, network-based knowledge resource, it provides them with the authoritative and timely guidance needed to excel in their roles, take decisive action and improve company performance. Powered by a member network that spans over 50 countries and represents more than 80% of the world's Fortune 500 companies, the Corporate Executive Board offers the unique research insights along with an integrated suite of members-only tools and resources that enable the world's most successful organizations to deliver superior business outcomes. For more information, visit http://www.exbd.com.
###