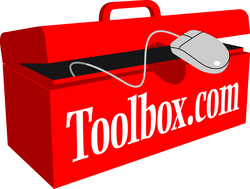 Scottsdale, AZ (PRWEB) March 14, 2011
Toolbox.com, a subsidiary of the Corporate Executive Board Company (NYSE: EXBD), today announced that the IT, HR and Finance peer-to-peer networking communities it operates have surpassed 2 million registered members. Growth over the last year has been driven by rich content, several new product launches and platform updates that support the knowledge-sharing needs of professionals as they use social media to make workplace decisions.
"This milestone represents the culmination of a key developmental year at Toolbox.com," commented Dave Moylan, Toolbox.com president. "Significant enhancements to the community platform, combined with an overall increase in global B2B social media participation, position Toolbox.com for even greater member growth in the coming months."
Contributing to the increased membership are several updates to the Toolbox.com platform, including:

Cloud Computing Topic Area: Encompasses the most relevant user-generated content related to cloud computing.
iPhone and Android Applications: Allows remote users with smartphones to share knowledge with the online communities at Toolbox.com.
Improved Search Capabilities: Users can now find richer and more detailed information on content and other peers.
Comprehensive Site Redesign: Provides a unified look and feel.
BBCode Capability: Users can now publish formatted code snippets for facilitated peer-to-peer knowledge sharing.
In addition to the improved knowledge-sharing capabilities available to community members, several enhancements for advertising partners have also been launched over the last year, including:
Lead Generation: Advertisers can communicate with professionals in real time within the Toolbox.com environment via Live Chat, which provides subject matter expertise to help drive decision making.
Social Engagement: Toolbox.com now features enhanced company profiles, which offer additional tools to help advertisers target and achieve a deeper levels of engagement with customers and prospects.
For additional information on Toolbox.com, please visit: http://www.Toolbox.com.
About Toolbox.com
Toolbox.com helps professionals do their jobs better by enabling them to easily share knowledge with experienced peers. The online communities at Toolbox.com provide the tools through which executives and professionals collaborate to solve problems, make decisions, and increase workplace efficiency. Through innovative marketing services, advertising partners become part of the conversation and engage professionals as they research, discuss, and influence purchasing decisions. This combination of community and advertising value has made Toolbox.com a leading destination for professionals and a leader in online advertising. Toolbox.com is a subsidiary of The Corporate Executive Board (NYSE: EXBD).
For more information, visit http://www.Toolbox.com.
###