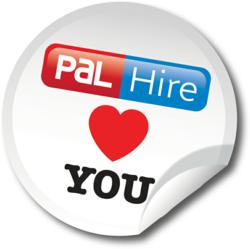 We aim to be extraordinary and to wow our customers by the lengths we go to ensure their happiness and satisfaction
(PRWEB UK) 26 October 2012
When PAL Hire built their website, launched this month, the idea behind it was to be a one-stop shop for events, tradespeople and the domestic market. The national company, who specialise in tool, plant and equipment hire have spent the past few month busily making sure their new site is easy to use, looks good and includes the 2000+ items that they offer to businesses and people across the country.
PAL Hire started life as the world's first online skip hire company, Topskips.com, in 2003 and boasts a bulging portfolio of clients including the BBC, Network Rail, Glastonbury and Carillion. The company offers everything from skip hire to toilet hire, asbestos removal to high visibility vests and fence hire. Since its beginning, the company have been inundated with requests from building sites, festivals, shows and shops to stock equipment and services across the country.
As well as supplying everything needed at an outdoor event, renovation or demolition site, PAL Hire has also included videos for products, to help the shopper choose the right piece of kit for their job. Its aim is to make hire equipment easy to understand, as well as easy to hire. This accessibility means that people who have never hired a drill or a forklift before can do so without being intimidated by jargon and industry terms. Ease is the focus of PALHire.co.uk.
As well as creating a top of the range website, the company believes that happy employees mean a happy and productive company. The company's tagline "Be Extraordinary" is reflected in everything they do – including the ten core values that they incorporate in everyday working life with a holistic approach to looking after employees, clients and every other aspect of business, PAL Hire has a loyal customer base, a happy working environment and people queuing up to work for, and with, the company.
On top of all this, they have been awarded the international quality standard ISO:9001 which shows that the company meets high quality management system requirements.
The company's growth is exceptional in the current economic climate and the new hire website will undoubtedly contribute towards on-going success.
Mark Attwood, founder of PAL Hire says, "We see PAL Hire as a family, and we believe in committing a lot of energy and focus on our service levels. Our core values influence every part of our daily lives and reflect in the way we do business. We aim to be extraordinary and to wow our customers by the lengths we go to ensure their happiness and satisfaction."