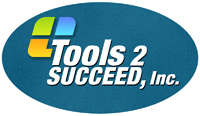 Often, managers are promoted from a staff-level position and haven't been taught how to hold people accountable.
Westlake Village, California (PRWEB) July 06, 2015
Sheryl Tuchman, SPHR, SHRM-SCP will speak about "Performance Expectations: Hold Them Accountable" at the HR Star Conference in San Francisco on July 15, 2015.
Sheryl Tuchman, Founder and CEO of Tools 2 SUCCEED, said, "Often, managers are promoted from a staff-level position and haven't been taught how to hold people accountable. Accountability Rules establish order, predictability, and stability in a team's performance. Their absence results in chaos, disorder, and poor performance. Boundaries, rules, regulations, expectations, or whatever we want to call them must exist to create a high-performance environment. Leadership skills development is essential for Human Resource Professionals."
Human Resource Professionals will learn to:

Confront behavior that fails to meet expectations
Understand the importance of discipline and conformity in building high performance
Develop a set of "non-negotiables" for those whom they lead
Harness harmful behavior
Sheryl Tuchman, SPHR, SHRM-SCP is the Founder and CEO of Tools 2 SUCCEED, Inc. and has more than 25 years of corporate business, management and technical experience. Her wide range of experience includes the design and implementation of governance processes for the IT departments of multi-billion dollar corporations, including Baxter Healthcare, Global Crossing and JWT Advertising.
Sheryl helps create high-performance organizations in which every employee feels and acts like a partner in the business and is excited to contribute to its success.
She holds a lifetime State of California Multiple Subjects credential and serves on the Board of the Professionals in Human Resources Association (PIHRA Woodland Hills, a SHRM affiliate) where she was voted "Member of the Year 2011." Besides SHRM, Sheryl is also an active member of the Association for Talent Development as well as the National Association of Women Business Owners, Ventura County, CA. In addition, Sheryl volunteers for Junior Achievement of Southern California, inspiring young people to succeed. She holds a B.A. cum laude from UCLA.
About HR Star Conference
Each year, the Los Angeles HR Star Conference draws 850+ HR professionals from organizations in Southern California. They are celebrating their 16th anniversary in 2015.
About Tools 2 Succeed, Inc.
Tools 2 Succeed provides leadership skills development, consulting, and coaching services to facilitate organizational growth and change. Services include onsite leadership workshops, executive coaching, outplacement services, and an extensive offering of e-learning courses. They are an approved provider of the Human Resource Certification Institute (HRCI), offering courses for recertification credit. Tools 2 Succeed is based in Southern California and serves clients in 49 countries including all 50 United States, the U.S. Virgin Islands and Puerto Rico.