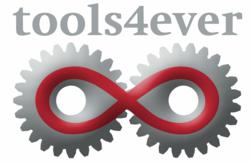 Lynbrook, NY (PRWEB) January 15, 2013
Tools4ever, the market leader in Identity and Access Management (IdM) solutions, is pleased to announce that during the previous quarter several secondary schools and universities have chosen to implement User Management Resource Administrator (UMRA) to improve security and efficiency of their user account management for staff, students, and parents. These schools range from k-12 to higher education and vary in size from 5,000 user accounts to over 35,000 user accounts.
Some of the educational institutions selecting the Tools4ever's User Management Resource Administrator include Marywood College, SUNY Purchase, Hunterdon Central Regional High School, Amarillo ISD, Pullman SD, RockWall ISD and Hurst-Euless-Bedford ISD.
Schools across the country have chosen to implement UMRA because of its ability to connect with many student information systems and electronic learning environments including Banner, eSchool, Blackboard and many more, to easily synchronize user accounts and data. This allows schools to eliminate the manual process of account management, reduce user pollution, improve security of systems and applications, as well as reduce the time and money associated with the lengthy process of user account management.
Tools4ever has considerable knowledge and experience in automating user account management processes within educational institutions and has carried out thousands of implementations for educational institutions.
UMRA has also recently been recognized by District Administration as one of the top 100 products in the educational sector for both 2011 and 2012. This acknowledgement is given to companies who have products that support exceptional educational innovation.
For more information about UMRA visit: http://www.tools4ever.com/software/user-management-resource-administrator/
About Tools4ever
Tools4ever distinguishes itself with a no-nonsense approach and a low Total Cost of Ownership. In contrast to comparable Identity & Access Management solutions, Tools4ever implements a complete solution in several weeks rather than months or years. Because of this approach, Tools4ever is the undisputed Identity & Access Management market leader, with more than one million user accounts managed on a daily basis.
Tools4ever supplies a variety of software products and integrated consultancy services involving Identity Management, such as User Provisioning, RBAC, Password Management, SSO and Access Management. For more information, please visit http://www.tools4ever.com.
For additional information please contact:
Tools4ever New York
Dean Wiech
Phone: 1-866-482-4414
d(dot)wiech(at)tools4ever(dot)com
Tools4ever Seattle
Tom Mowatt
Phone: 1-888-770-4242
t(dot)mowatt(at)tools4ever(dot)com