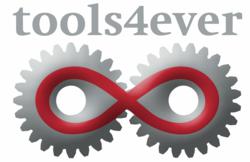 Lynbrook, NY (PRWEB) February 13, 2013
Tools4ever, the market leader in Identity and Access Management (IdM) solutions, has developed a connector for the enterprise instant messenger application Microsoft Lync (previously Microsoft Office Communicator). The connector drastically simplifies the management of user accounts and access privileges by eliminating the need for manual and error-prone procedures. Tools4ever's Identity and Access Management suite including UMRA allows users to have actions performed in Microsoft Lync based on data from any source system. For instance, a Lync user is created when a new employee is added to the HR system. It is also possible to disable a Lync user when the associated employee leaves service.
Besides enabling and disabling user accounts in Microsoft Lync, it is possible to configure a host of settings for Lync users based on information from the source system, such as setting a phone number for the use of Microsoft Exchange Unified Messaging. It is also possible to retrieve information from Lync for various reporting purposes, such as a list of Lync users including their status, phone number, rights and/or Lync group, or to select a group of Lync users based on their location specified in Active Directory.
Since these actions are performed without the need for intervention or manual procedures by systems administrators, valuable time can be saved and errors prevented.
UMRA is deployed by many organizations for the day-to-day management of user accounts in the Active Directory. As part of the influx, progression and departure of employees, UMRA serves as a graphic shell around the network with which, for instance, a service desk can use electronic forms to carry out these user account management tasks safely and by delegation. Alongside the basic management of user accounts in the Active Directory, UMRA offers (default) connectors for handling the user management for various other systems, including facility management, content management, email and helpdesk systems.
A full overview of UMRA connectors is available at http://www.tools4ever.com/software/user-management-resource-administrator/connectors/
---------------------------------------------------------------------------------------------
About Tools4ever
Tools4ever distinguishes itself with a no-nonsense approach and a low Total Cost of Ownership. In contrast to comparable Identity & Access Management solutions, Tools4ever provides a complete solution in several weeks rather than months or years. Partly thanks to this approach, Tools4ever is the undisputed Identity & Access Management market leader, with more than one million managed user accounts.
Tools4ever supplies a variety of software products and integrated consultancy services involving Identity Management, such as User Provisioning, RBAC, Password Management, SSO and Access Management.
For more information, please visit http://www.tools4ever.com.
For additional information please contact:
Tools4ever New York
Dean Wiech
Phone: 1-866-482-4414
d.wiech(at)tools4ever(dot)com
Tools4ever Seattle
Tom Mowatt
Phone: 1-888-770-4242
t.mowatt(at)tools4ever(dot)com