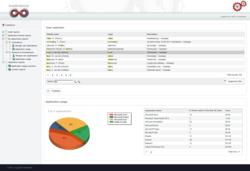 Tewkesbury, Gloucestershire (PRWEB) September 29, 2011
Tools4ever, a market leader in Identity & Access Management solutions, has added a new feature to its product UMRA (User Management Resource Administrator). The new UMRA Real Use Dashboard offers IT managers and systems administrators an overview of application usage by individual employees and departments, including the frequency of use. The dashboard also allows them to map out licensing costs in real time and to take action where relevant. For example, it is now possible to immediately revoke applications that remain unused for a long period of time. If users are not actively using an application, UMRA can automatically notify them that they are incurring unnecessary licensing costs for the company.
Faced with rapidly mounting licensing costs, companies are looking for effective and simple ways to control this expenditure. By creating an interface between the UMRA Real Use Dashboard and their Facility Management system, organisations can gain insight into the total licensing costs and the usage status of their application(s). The dashboard can reveal the number of times an application has been launched by an employee and the length of time an application has been used for or has remained idle. UMRA can store information on any application in its database, accompanied with licensing data and display all of this on the dashboard.
Robert Doswell, Managing Director of Tools4ever, Ltd comments: "In this current economic climate it is crucial for organisations to scrutinise their IT expenditure. They want to minimise licensing costs where possible, but often find it difficult to monitor which software applications are being used by individual employees. The new UMRA Real Use Dashboard now offers IT managers a simple and effective way to solve license management issues."
UMRA is Tools4ever's modular Identity & Access Management solution. It provides solutions for user account management, user provisioning, downstream provisioning, RBAC and Workflow Management.
More information on the UMRA Real Use Dashboard is available at: http://www.tools4ever.com/products/user-management-resource-administrator/licenses/
For more information on UMRA, please refer to: http://www.tools4ever.com/nl/products/user-management-resource-administrator/
###