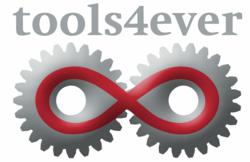 Lynbrook, NY (PRWEB) November 13, 2012
Tools4ever, the market leader in Identity and Access Management solutions, has implemented its single sign on software (E-SSOM) at 110 branches of Volvo Cars. The Volvo dealers were looking for a solution to solve the issue of employees having to log in to each of their web applications. On average, employees use 20 different applications a day, each of which requires a different combination of user name and password. A total of 35 generic applications (including inventory management, sales and workplace management suites) were made ready for single sign on with the help of E-SSOM. The implementation was carried out in collaboration with Beesd A2, the dedicated software supplier and IT service provider of Volvo Cars Nederland B.V.
Car dealerships have been increasing their use of web applications. For instance, they are required to register and unregister cars at the RDW Centre for Vehicle Technology and Information, request online quotations from leasing companies and report damages online. All these web applications require a different user name and password. Employees try to solve this problem by keeping documents with their credentials or by writing down passwords on sticky notes.
During a successful pilot at a Volvo dealer, the value of single sign on software quickly became apparent to the employees. Three salespersons and two receptionists tested the software on site over a period of two months. From the very first day, they were highly enthusiastic about the solution, as they no longer had to log in to each and every application.
Tjeu Bollen, the founder of Beesd A2, relates his experiences with E-SSOM: "When Tools4ever presented the solution at our office, I was impressed by the product's ease of use and how fast Tools4ever was able to implement the solution. During the pilot, Tools4ever was able to make 20 applications ready for Single Sign On in just one day. This pilot and the relatively low costs made our decision to select this suite very easy."
------------------------------------
About Tools4ever
Tools4ever distinguishes itself with a no-nonsense approach and a low total cost of ownership. In contrast to comparable identity and access management solutions, Tools4ever implements a complete solution in several days rather than weeks or months. Because of this approach, Tools4ever is the undisputed identity and access management market leader with more than five million managed users. Tools4ever supplies a variety of software products and integrated consultancy services involving identity management, such as user provisioning, RBAC, password management, SSO and access management. For more information, please visit http://www.tools4ever.com.
For further information please contact:
Tools4ever New York
Phone: 1-866-482-4414
Sales: nasales(at)tools4ever(dot)com
Support: support(at)tools4ever(dot)com
Tools4ever Seattle
Phone: 1-888-770-4242
Sales: nwsales(at)tools4ever(dot)com
Support: nwsupport(at)tools4ever(dot)com