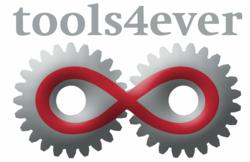 Lynbrook, NY (PRWEB) October 23, 2012
Tools4ever, the market leader in identity and access management solutions with more than five million user accounts worldwide, announced today that its complete line of software solutions now comply with the scheduled Windows 8 and Windows Server 2012 upgrades scheduled for release later this year
Since Tools4ever's solutions often use Windows Active Directory as their source system, the upgrades to Tools4ever´s product have been planned since Microsoft announced the launch of Windows 8, said Dean Wiech, managing director of Tools4ever.
Tools4ever provides support for all versions of its products operating on Windows-based operating systems, including future Microsoft iterations.
The Tools4ever product updates means users of Microsoft´s latest operating system can continue to benefit from effective and efficient user and access management solutions designed to serve a variety of business sectors including healthcare, education, manufacturing, nonprofit and government, among others.
"Though some organizations will begin to migrate to Windows 8 shortly after its launch, I don't expect an overwhelming numbers of organizations to do so in the near term, but it is highly likely that their systems administrations are already testing their software applications for compatibility with Windows 8," said Wiech. "Consequently, upgrading our products is a strategic decision for us to ensure all our identity and access management solutions, including User Management Resource Administrator, Enterprise Single Sign On Manager and Self Service Reset Password Management, are compatible with the new versions of Windows."
The new test versions of Tool4ever's identity and access management can be downloaded for free at http://www.tools4ever.com/download/.
About Tools4ever
Tools4ever distinguishes itself with a no-nonsense approach and a low total cost of ownership. In contrast to comparable identity and access management solutions, Tools4ever implements a complete solution in several days rather than weeks or months. Because of this approach, Tools4ever is the undisputed identity and access management market leader with more than five million managed users. Tools4ever supplies a variety of software products and integrated consultancy services involving identity management, such as user provisioning, role-based access control, password management, SSO and access management. For more information, please visit http://www.tools4ever.com.
For further information, please contact:
Dean Wiech, Tools4ever New York
866-482-4414
press(at)tools4ever(dot)com